Online:Craglorn
The UESPWiki – Your source for The Elder Scrolls since 1995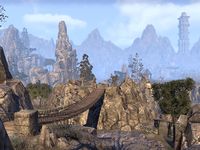 Craglorn is a region situated in northeastern Hammerfell between Bangkorai and Cyrodiil. The zone can be entered at any level via the gate in Bangkorai, and it is also possible to travel to Craglorn via cart from the Alliance capital cities, Elden Root, Mournhold, and Wayrest. The main storyline revolves around the disappearance of the constellations from the sky.
Originally designed as a Veteran-only 4-player Adventure Zone, Craglorn was overhauled in the One Tamriel update and is now a hybrid zone containing both solo and group content, open to players of any level. Areas involved with the zone's main storyline can all be tackled solo, as can the majority of the overworld. "Group Areas" are denoted with a plus sign on the world map and are aimed at groups of 2 to 4. Craglorn also contains several 12-player trials, as well as the 4-player Dragonstar Arena.
Craglorn is split into three regions. Lower Craglorn comprises the two in the south of Craglorn, centered on the town of Belkarth. Upper Craglorn lies to the north, with the town of Dragonstar at its western end. Access between Upper and Lower Craglorn is by a rocky pass in the west, or through a sundered Iron Orc barricade in the east.
Craglorn is the only location in all of Tamriel where the rare ore nirncrux can be harvested, which is used in the crafting of weapons and armor with the nirnhoned trait.
Group Delves
[
edit
]
Delves in Craglorn with a + icon are Group Delves, which are instanced and aimed at groups of 2 or more.
Points of Interest
[
edit
]
Places with a plus sign + on the icon are designed for groups of 2-4 players.
The following Points of Interest do not count towards Zone Completion:
Striking Locales
[
edit
]
Places with a plus sign + on the icon are designed for groups of 2-4 players, containing large groups of monsters and a boss monster of tier 3.
Set Stations
[
edit
]
Group Dungeons
[
edit
]
Trials and Arenas
[
edit
]
World Bosses
[
edit
]
These locations were originally listed as Group Events, but now function similarly to normal World Bosses.
Player Houses
[
edit
]
Wayshrines
[
edit
]
Unmarked Locations
[
edit
]
Event Hubs
[
edit
]

Craglorn also contains several locations from The Elder Scrolls V: Skyrim that are otherwise unnamed (and in some cases, inaccessible) in ESO. These locations are documented at Out-of-Bounds Locations in Craglorn.
When Craglorn was originally released, everything was scaled to require a group of 2-4 players. However, since the One Tamriel update, all of the actual Main Story Quests of the zone have been reduced in difficulty and are now designed to be tackled solo. All these quests' boss-type monsters reduced from tier 2 or tier 3 (normally group-level bosses) to tier 1, equivalent to a Delve boss in normal zones, and reduced numbers in the groups of normal monsters. Exceptions are The Shattered and the Lost and The Corrupted Stone, which remain designed for groups (or at least for players capable of soloing World Boss level monsters), but these quests are now optional rather than compulsory.
All other side quests remain aimed at groups of 2-4 players, with the exception of The Gray Passage, Iron and Scales, and Taken Alive: these three take place in areas that were required for the Main Story Quests, and thus their difficulty has similarly been reduced to solo levels. Also, the three one-time sidequests in Lower Craglorn (Gem of the Stars, Message Unknown and Strange Lexicon) could be regarded as easily soloable, since although all three take place in Group Delves, none of them require killing the delve boss (a tough tier 2 designed for groups of 2-4).
Quest Map
[
edit
]
Paths always enter a quest from the top or left, and leave a quest from the bottom or right.
Denotes a requisite path or quest. You must complete this before starting the subsequent quest.
Denotes an optional path or quest. The subsequent story quest can be started without this being completed.
Denotes an exclusive path or quest. Only one of the connected quests will be offered.
Denotes a quest which is part of the main chain.
Denotes a quest which is required for Craglorn Completist.
Denotes a quest which is required for Celestial Investigator.
Denotes a quest which is required for Serpents and Secrets.
Denotes a pointer quest which is part of the main chain.
Denotes a pointer quest which is on an alternate path.
The Celestial Threat Story Quests
[
edit
]
Celestial Investigator
[
edit
]
Serpents and Secrets
[
edit
]
Daily Quests
[
edit
]
Other Quests
[
edit
]
Daily Quests
[
edit
]
Trials Quests
[
edit
]
Dungeon Quests

[

edit

]
Skyshards
[
edit
]
Set Name
Bonuses
Location(s)
Set Type
Draugr's Rest

2 items: Adds 25-1096 Maximum Magicka
3 items: Adds 3-129 Magicka Recovery
4 items: Adds 4% Healing Done
5 items: When you complete a fully-charged Heavy Attack, you create a circle of consecrated ground that heals you and your group members within 5 meters for 5550 Health over 10 seconds. This effect can occur once every 10 seconds and scales off the higher of your Max Magicka or Stamina.

Falkreath Hold
Light Armor
Pillar of Nirn

2 items: Adds 25-1096 Maximum Stamina
3 items: Adds 15-657 Critical Chance
4 items: Adds 3-129 Weapon and Spell Damage
5 items: When you deal damage, you create a fissure underneath the enemy after 1 second, dealing 683 Bleed damage to all enemies within 2.5 meters and causing them to bleed for an additional 3415 Bleed damage over 10 seconds. This effect can occur once every 10 seconds and scales off the higher of your Weapon or Spell Damage.

Falkreath Hold
Medium Armor
Ironblood

2 items: Adds 28-1206 Maximum Health
3 items: Adds 34-1487 Armor
4 items: Adds 34-1487 Armor
5 items: When you take damage, you have a 10% chance to turn your blood into pure iron for 10 seconds, gaining Major Protection, Major Aegis, and Minor Protection, but also reducing your Movement Speed by 25%. This effect can occur once every 10 seconds.

Falkreath Hold
Heavy Armor
Domihaus

1 item: Adds 25-1096 Maximum Stamina
1 item: Adds 25-1096 Maximum Magicka
2 items: When you deal damage, you create a 10 meter ring of molten earth around you for 10 seconds, which deals 90 Flame damage and 90 Physical damage every 1 second. Standing within the ring grants you 6-300 Weapon and Spell Damage. This effect can occur once every 15 seconds and the damage scales off the higher of your Weapon or Spell Damage.

Falkreath Hold
Monster Helm Sets
Set Name
Bonuses
Location(s)
Set Type
Infallible Mage

2 items: Adds 15-657 Critical Chance
3 items: Gain Minor Slayer at all times, increasing your damage done to Dungeon, Trial, and Arena Monsters by 5%.
4 items: Adds 3-129 Weapon and Spell Damage
5 items: Adds 15-657 Critical Chance
5 items: Your Heavy Attacks deal an additional 20-900 damage. Enemies you damage with fully-charged Heavy Attacks are afflicted with Minor Vulnerability for 10 seconds, increasing their damage taken by 5%.

Aetherian Archive
Hel Ra Citadel
Sanctum Ophidia
Light Armor
Vicious Serpent

2 items: Adds 15-657 Critical Chance
3 items: Gain Minor Slayer at all times, increasing your damage done to Dungeon, Trial, and Arena Monsters by 5%.
4 items: Adds 15-657 Critical Chance
5 items: Adds 3-129 Weapon and Spell Damage
5 items: Reduces the cost of your Stamina abilities by 8%. When an enemy you have recently damaged dies, you restore 57-2454 Stamina and gain Major Expedition for 8 seconds, increasing your Movement Speed by 30%. These effects can occur once every second.

Aetherian Archive
Hel Ra Citadel
Sanctum Ophidia
Medium Armor
Eternal Warrior

2 items: Adds 4% Healing Taken
3 items: Gain Minor Aegis at all times, reducing your damage taken from Dungeon, Trial, and Arena Monsters by 5%.
4 items: Adds 28-1206 Maximum Health
5 items: Adds 4% Healing Taken
5 items: When you take damage while below 25% Health in combat, you heal for 9370 Health and gain 2-100 Ultimate. This effect can occur once every 1 minute and the heal scales off your Max Health.

Aetherian Archive
Hel Ra Citadel
Sanctum Ophidia
Heavy Armor