Online:The Exalted Viper
The UESPWiki – Your source for The Elder Scrolls since 1995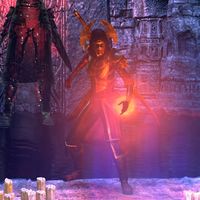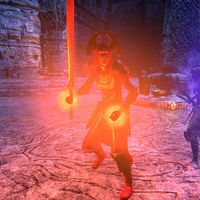 The Exalted Viper is a Celestial who plans to usurp the Serpent's place in the sky. She arrives out of the Nirncrux pool in Skyreach Temple after Little Leaf's death, and will resurrect her and other Scaled Court members as ghosts to assist her. During the related quest, Regent Cassipia will complete her transformation and become the Exalted Viper halfway through the fight, after which her knockdown attacks can be blocked but become more frequent.
Related Quests
[
edit
]
Skills and Abilities
[
edit
]
Chill

Ice Cage
A ring of ice is cast around you, with a hollow center that has no ice. Stepping on the ice will cause gradual damage.
Viper's Rage
The Exalted Viper teleports to the stone carving in the center of the temple, channeling magicka to lift herself into the air and letting out a huge burst of energy that inflicts some damage and causes you to be knocked back.
Dialogue
[
edit
]
You face Little Leaf and more members of the Scaled Court. You can attack half of the enemies without the others attacking you by simply focusing on the ones at the front of the room. Defeat Little Leaf, who wields a staff.
The pool of reddish liquid starts to bubble, and Cassipia will enter combat.
The Exalted Viper: "No! Not Little Leaf! Come back to me, Little Leaf."
She teleports from the pool to where you defeated Little Leaf, and your entire group is forced to kneel. She summons Little Leaf's spirit and begins to fight you, enraged at her companion's death. When Little Leaf's spirit is defeated too, she will yell:
The Exalted Viper: "No... No! Little Leaf!"
Cassipia uses a two-handed sword and can teleport around the room in a burst of orange light, knocking down everyone in the group. The spirits of the Scaled Court members may also join the fight. The Thief will stay focused on Little Leaf, distracting her and keeping her relatively in the same place. Once Little Leaf dies, Cassipia glows red and reveals her true form. It is now possible to block her teleport knockdowns, although she performs them more frequently.
"I am the Exalted Viper! I shall not be denied my place in the sky!"
Continue attacking her and the ghosts of the fallen Scaled Court members until she is defeated.
The Exalted Viper: "I only sought … to make things … better …."
Gallery
[
edit
]