Main Page
The UESPWiki – Your source for The Elder Scrolls since 1995
Welcome to the Unofficial Elder Scrolls Pages! We have been building a collaborative source for all knowledge on the Elder Scrolls series since 1995, and we could use your help! To begin browsing our site, you should select one of the games on the left side menu. If you would like to help us build the site, you can learn how to get started as an editor, read over the help files, or look through our guide to helping out. If you'd like to discuss The Elder Scrolls with other users, please consider using the UESP forums or Discord server.
This site's purpose is to provide information; therefore, most of the content contains spoilers.
---
Latest News
Support the UESP on Patreon!
Elder Scrolls Online: Lost Depths Announced —

July 11, 2022
Billy Kametz Passes Away, Aged 35 —

June 9, 2022
Elder Scrolls Online: High Isle Releases on PC —

June 6, 2022
Arena, Daggerfall, Battlespire, and Redguard Now On Steam —

April 26, 2022
Elder Scrolls Online: High Isle Preview Event —

April 14, 2022
A Month of Events for ESO's Eighth Anniversary —

April 1, 2022
Ascending Tide And Update 33 Go Live For Elder Scrolls Online —

March 14, 2022
Explorer's Celebration Celebration Event Starts —

March 17, 2022
Bethesda to Sunset Their Launcher —

February 22, 2022
Elder Scrolls Online Holds Whitestrake's Mayhem Event —

February 19, 2022
Elder Scrolls Online Announces Legacy of the Bretons Story Arc —

January 27, 2022
Letters Mailed Teasing Upcoming Elder Scrolls Online Content —

January 16, 2022
Elder Scrolls Online to Hold Daedric War Celebration Event —

January 15, 2022
ESO 2022 Global Reveal Event Announced —

January 5, 2022
2022 New Year Sales —

January 01, 2022
Current Featured Article
The Sea of Ghosts (also known as the Ghost Sea or the Northern Sea) is the body of water that consists of the northern coast of Tamriel and the southern coast of Atmora. (more...)
Current Featured Image
Did You Know...
... that Skyrim

'

s Creation Club adds many artifacts, ingredients, creatures, and other content from previous games?
Support UESP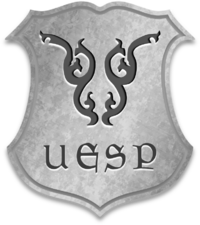 The UESP is one of the oldest independently-run gaming websites on the Internet, and has been supporting the Elder Scrolls community since 1995. You can support the UESP's continued operation through our Patreon, as well as receive various benefits. Another way to support UESP is to join the editors who help build the site. You can learn more about that here.