Main Page
The UESPWiki – Your source for The Elder Scrolls since 1995

Welcome to the Unofficial Elder Scrolls Pages! We have been building a collaborative source for all knowledge on the Elder Scrolls series since 1995, and we could use your help! To begin browsing our site, you should select one of the games on the left side menu. If you would like to help us build the site, you can learn how to get started as an editor, read over the help files, or look through our guide to helping out. If you'd like to discuss The Elder Scrolls with other users, please consider using the UESP forums or Discord server.
This site's purpose is to provide information; therefore, most of the content contains spoilers.
---
Latest News
UESP 25th Anniversary Coins Finished! —

September 25, 2020
ESO Holds Explorer's Celebration —

November 12, 2020
Ebony Plate Creation Temporarily Free —

November 12, 2020
Free Upgrade for ESO Players to Next Console Generation —

November 09, 2020
Elder Scrolls Online: Markarth Released —

November 02, 2020
Asian Market Version of The Elder Scrolls: Legends Shutting Down —

October 29, 2020
Daedric Mail Creation Temporarily Free —

October 26, 2020
Creation Club Set to Return by End of Year —

October 02, 2020
Call to Arms News —

October 02, 2020
Lost Treasures of Skyrim Event Successfully Completed —

October 02, 2020
Bone Wolf Creation Temporarily Free —

October 01, 2020
Microsoft to acquire ZeniMax Media —

September 21, 2020
Current Featured Article
Jakben Imbel's House is a large manor in the Imperial City Talos Plaza District found in the main plaza between The Tiber Septim Hotel and Umbacano Manor. It is the residence of Jakben, Earl of Imbel, an ancient vampire posing as a local nobleman, and his servant, Gemellus Axius. (more...)
Current Featured Image
Did You Know...
Support UESP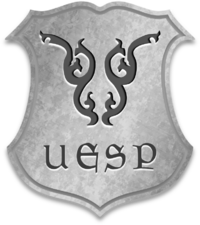 The UESP is one of the oldest independently-run gaming websites on the Internet, and has been supporting the Elder Scrolls community since 1995. You can support the UESP's continued operation through our Patreon, as well as receive various benefits. Another way to support UESP is to join the editors who help build the site. You can learn more about that here.