ESO: 

Anniversary Jubilee

The UESPWiki – Your source for The Elder Scrolls since 1995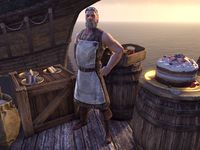 The Anniversary Jubilee is a holiday event that typically takes place in the month of April and May. It is a yearly celebration of the release on ESO. During this event players can obtain a 100% XP buff and the opportunity to acquire a variety of items. The festival also has a special quest associated with it, named Ache For Cake, which repeats every year. A notable feature of the event is the inclusion of Anniversary Jubilee Gift Box — special reward containers that grant players various event-themed items.
Anniversary Jubilee Gift Box
[
edit
]

This box contains a variety of crafting-related materials, intended for celebrants of the Anniversary Jubilee.
An Anniversary Jubilee Gift Box can be obtained by completing daily or weekly quests during the event. Multiple can be earned each day. Each Gift Box contains a selection of items, some of which related to the Anniversary Jubilee. This includes crafting motifs, recipes, furnishing plans and crafting materials (style materials, ores, raw materials, wood, dust, potency runestones, provisioning ingredients, solvents). All of these items can be traded with other players. Rewards vary slightly each year as detailed below.
Jubilee Cake
[
edit
]
A unique feature of the Anniversary Jubilee is the Jubilee Cake, baked by Chef Donolon. Once the Ache For Cake quest has been completed, the cake is granted as a Memento that can be called into the world. Once placed, anybody within your group can take a slice and receive a two-hour 100% XP buff that stacks with any other active XP bonuses. The cake's appearance changes every year, becoming taller and more elaborate. Once the event is over, the cake can still be summoned and interacted with, but does not grant the XP buff.
Six Year Anniversary, 2020
[
edit
]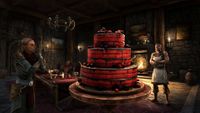 The Six Year Anniversary Jubilee will run from April 2 to April 14, 2020. This event and drops were similar to previous years, including a new 2020 Jubilee Cake Memento, XP buff and Anniversary Jubilee Gift Box.
Notable additions this year were the introduction of the new Jephrine Paladin Style pages and replica Jubilee Cake furnishings.
Anniversary Jubilee Gift Box 2020 Loot
Crown Store Deals
[
edit
]
During the anniversary, there is a discount on Crown Packs. Additionally, several limited and discounted items are available in the Crown Store during this time.
Gifting Event Tickets
[
edit
]
During the event there is an exchange where gifting other players five or more Event Tickets in total will see you receive four Gloomspore Crates once the event is finished. The minimum number of tickets needed can be spread between multiple recipients.
Five Year Anniversary, 2019
[
edit
]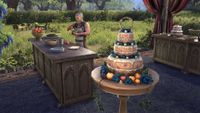 The Five Year Anniversary Jubilee ran from April 4 to May 9, 2019. This event was similar to the previous year (including the XP buff and a new 2019 Jubilee Cake Memento) but ran for five weeks - one week to represent each year since launch.
The activities players partook in to earn a Anniversary Jubilee Gift Box were more varied, with a different one for each week of the event. The first week players earned Gift Boxes by completing crafting writs. The second week was by completing Delve and World Boss Dailies. The third week was by completing Alliance War or Battlegrounds daily quests. The fourth week was by completing daily Pledges for Dungeons and Trials. Finally, the fifth week players could complete any of the previous weeks activities to earn Gift Boxes. In addition, the contents of Gift Boxes were altered slightly each week, giving a chance to drop a different Companion Style page for four of the Five Companions.
Anniversary Jubilee Gift Box 2019 Loot
Throughout the entire event two Event Tickets could be obtained by interacting with the Jubilee Cake 2019 each day. By the end of the event a total of 72 tickets were obtainable. As such, The Impresario sold a large number of items during the event, included the aforementioned Companion style pages and all four Luminous Berries required to evolve the Nascent Indrik into a Luminous Indrik mount.
Four Year Anniversary, 2018
[
edit
]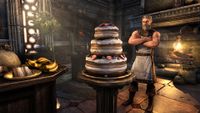 The Four Year Anniversary Jubilee ran from April 4 to April 23, 2018. This event was identical to the previous year, including a new 2018 Jubilee Cake Memento, XP buff and Anniversary Jubilee Gift Box. One notable addition this year was the chance to obtain rarer motif chapters previously only available in Vvardenfell, Horns of the Reach dungeons and the Clockwork City. In addition, this year introduced the chapters from the Worm Cult Style which can only be found in the Anniversary Gift Boxes.
Zemimax Studios also released various statistics after reaching the 10 million players milestone. These included total number of monsters killed, items crafted, most popular race and more.
Anniversary Jubilee Gift Box 2018 Loot
Three Year Anniversary, 2017
[
edit
]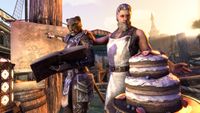 The Three Year Anniversary Jubilee ran from April 4 to April 18, 2017. This event was identical to the previous year, but with the introduction of the Anniversary Jubilee Gift Box. These gift boxes could be obtained by completing daily or weekly quests during the event. In addition, a new Jubilee Cake Memento for 2017 was granted to players.
Anniversary Jubilee Gift Box 2017 Loot
Two Year Anniversary, 2016
[
edit
]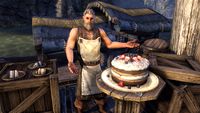 The inaugural Anniversary Jubilee celebrated the game's two year anniversary. It ran from April 3 to April 12, 2016. The event itself was relatively basic and introduced the quest Ache For Cake, which involved helping Chef Donolon bake his new Jubilee Cake recipe. The 2016 Jubilee Cake Memento was given as a reward, and would result in a 100% Experience bonus for you and your group when activated during the event. Due to a bug with XP buff stacking, the event was extended from April 10 to April 12.
There was no event to celebrate the 1st Anniversary of ESO's release in April 2015, however the Welcome Back Weekend event took place around that time.
External Links
[
edit
]