Online:Events
The UESPWiki – Your source for The Elder Scrolls since 1995
This page lists all limited-time events which have taken place in The Elder Scrolls Online. Events can be special occasions that only occur once, or can be recurring every year. Recurring events include:
The Crown Store usually has special offers coinciding with these events, such as discounts on relevant DLCs and cosmetics, and can include the temporary return of limited availability items such as DLC Collector's Editions, Player Houses and Crown Crates. Sometimes the Crown Store also has additional sales corresponding to various real-world cultural events not otherwise celebrated in-game, such as Valentine's Day ("Heart's Day"), St Patrick's Day, Friday the 13th ("Fatal Fredas/Serpent 13"), a combined dye sale for Canada Day, US Independence Day & Bastille Day, and the annual Black Friday ("Black Fredas") sale.
Since late 2018, most game events have also provided Event Tickets to participants, used to purchase special items from the Impresario.
Four of the recurring events also have their own Achievements, some of which unlock special furnishings for purchase.
Current Event
[
edit
]
28 July — 9 August 2022
Whitestrake's Mayhem returns to Cyrodiil and the Imperial City! Complete your introduction with Predicant Maera (or do it again this year if you want!) to receive your Scroll of Pelinal's Ferocity.
Pelinal's Boon Boxes are rewarded for completing daily quests in Cyrodiil or Imperial City district daily quests, or as a bonus reward with Rewards for the Worthy mails you receive.

These boxes contain a variety of goodies ranging from Tel-Var stones to Cyrodiil repair kits or soul gems, as well as a chance for Cyrodiil style pages, Daedric siege weapons, transmute geodes.
There is also a very rare chance to receive a bag containing runeboxes for both of the new Battle-Scarred face and body markings. The bag is not tradeable, but the individual runeboxes are once taken out of the bag.
You can earn a total of 3 Event Tickets per day during this event.

The first 2 come from completing any daily quest that focuses on Cyrodiil or Battlegrounds. You may earn an additional ticket by completing an Imperial City District daily quest. Visit both places if you want to maximize your ticket earnings!
In addition to the rewards from previous Mayhems, this year's new outfit style is the House Dufort Banneret Armor.

Style pages for this armor have a chance to drop from bosses in the Imperial City but are also available from the Impresario for 5 tickets each.
Bosses in the Imperial City also have a small chance to drop an additional page for last Mayhem's Black Drake Clanwrap armor style.

The helpful Reachman, Cullearn, remains at the Impresario's tent to model the Battle-Scarred face and body markings.
The Impresario will have bound style pages for the House Dufort Banneret Armor for 5 tickets each, as well as the face and body markings (sold separately) for 5 tickets each. Also available will be all three fragments of the Soulfire Dragon Illusion Pet as well as the first fragment of the Daggerfall Paladin costume.
Future Events
[
edit
]
Future Events (Hidden for Spoilers) 
June 30 — July 12, 2022
The Zeal of Zenithar was a new event honoring Zenithar, the Tamrielic god of commerce, labor, and cooperation. During the event you could earn three Event Tickets once a day per account for completing the daily quest, Honest Toil. The Impresario sold several new items including the High Rock Spellsword Style and all fragments for the Aurielic Quasigriff mount.
Set Sail for High Isle
[
edit
]
2 June — 26 June 2022
Tune in to participating streamers on Twitch from 6/2 - 6/26 as they explore ESO in celebration of the upcoming High Isle Chapter launch.
Celebrate High Isle's upcoming launch with us by watching your favorite streamers play ESO and earning amazing new in-game rewards as you do!
The Elder Scrolls Online: High Isle is just around the corner (June 6 for PC/Mac and June 21 for consoles, in fact!) and starting this Thursday, June 2, you can watch a host of amazing streamers as they begin or continue their adventures in Tamriel during the Set Sail for High Isle celebration.
Watch these and other ESO livestreams during the four-week celebration period and you'll earn a bunch of in-game rewards through Twitch Drops. There are three waves of goodies, depending on when you tune in:
7 April, 2022 — 19 April 2022
During the Anniversary Jubilee you will receive Anniversary Jubilee gift boxes for completing different daily quests. These boxes can provide new style pages to unlock the Saberkeel outfit styles. In addition, each anniversary gift provides crafting materials and a chance at valuable motif pages, crafting recipes, and style items.
31 March 2022 — 7 April 2022
In addition to the rewards from previous events, it introduced new items and a new daily quest, "Getting the Band Together", offered by a stranger arriving at each Jester's Festival locations. Completing the introductory quest grants the Pie of Misrule - a 2 hour +100% experience bonus for as long as the event lasts.
March 17, 2022 — March 22, 2022
The 2022 Explorer's Celebration ran from March 17th to March 22nd. Players received additional rewards for various in-game activities in any zone in Tamriel.
February 17, 2022 — March 1, 2022
Midyear Mayhem took place in February 2022 and was renamed Whitestrake's Mayhem. In addition to the rewards from previous events, it introduced several new items including this year's new outfit style is the Black Drake Clanwrap Style and the Black Drake Body and Face Markings.
A Storm Rises Over Tamriel during Elder Scrolls Online Global Reveal Event
[
edit
]
January 27, 2022
The Elder Scrolls Online Team will reveal their plans for major updates, on Thursday, January 27 at 8PM GMT on their Twitch channel, giving a first look at the upcoming Chapter and DLCs that make up this year's "brand-new Elder Scrolls adventure" (the story arc will be named during it). Tune into the show any time starting at 8PM GMT and you'll also receive the Barnacle-Back Coral Crab pet and an Ouroboros Crown Crate through Twitch Drops simply for watching.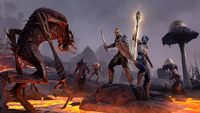 January 20, 2022 — February 1, 2022
Return to Vvardenfell, the Clockwork City, and Summerset Isle in the Daedric War Celebration! This new event takes you back to the lands beset by conflict fomented by the Daedric Triad of Clavicus Vile, Mephala, and Nocturnal. You may participate in daily quests in any of the three zones, including delve and world boss dailies, Blackfeather Court dailies, Slag Town dailies, Ashlander dailies, and the Geyser daily quest in Summerset.
December 16, 2021 — January 4, 2022
The New Life Festival returns to Tamriel! Breda is back to offer you festive quests for the season that bestow valuable rewards, including the new Nord Carved armor style.