Online:New Life Festival
The UESPWiki – Your source for The Elder Scrolls since 1995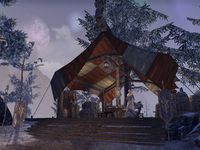 The New Life Festival is a holiday event that typically takes place in the month of December and January. During this event players can obtain a 100% XP buff and the opportunity to acquire a collection of New Life Festival-themed items. The festival also has a special quest associated with it, named The New Life Festival, which repeats every year. A notable feature of the event is the inclusion of New Life Gift Box — special reward containers that grant players various event-themed items.
For background information on the festival, see the lore page.
New Life Gift Box
[
edit
]

This box contains gifts that many celebrants would find of interest.
For completing a subsequent daily quest, you will receive one New Life Festival Box. Each Gift Box contains a guaranteed sample of Wolfsbane Incense, as well as a selection of items related to the New Life Festival. This includes unique recipes, provisioning ingredients, Skinchanger motif pages, or rare collectibles. All of these items can be traded with other players. Rewards vary slightly each year as detailed below.
Availability
[
edit
]
New Life Gift Boxes can be obtained as a quest reward from Breda at the revelers' tent, just south of Windhelm. Each quest can be completed once a day, granting a maximum of 9 boxes per day, per character.
Completing all nine activities unlocks the

New Life Cerulean dye. In addition, activating Breda's Magnificent Mead Mug memento or drinking Breda's Magnificent Mead from the keg near Breda will net you double XP for two hours.
New Life Festival 2018
[
edit
]
The New Life Festival 2018 will run from December 13, 2018 to January 2, 2019.
Some of the new additions during the 2018 festival include:

As an incarnate nature spirit, an Indrik first appears in its comparatively drab Nascent form before somehow differentiating into one of their more splendid variations.
The New Life Festival is the fourth opportunity for players to work towards obtaining the Nascent Indrik mount. During the event, the Opaline Indrik Feather is introduced and can be purchased with ten Event Tickets, which players can acquire from completing daily quests from Breda. Completing any quest will reward players with one Event Ticket per account per day.
Once ten tickets have been collected, they can be brought to The Impresario (located in Daggerfall, Davon's Watch, and Vulkhel Guard) to purchase the feather.

"A direct request for a dozen simple furnishings, from the Orsinium Home for Displaced Children. Once accepted, this contract cannot be traded or sold. Completing 12 New Life Charity Writs will award you the Crystalfrost Skin."
Charity Writs are special master writs that request a dozen simple furnishings, such as a Rough Bowl, Common or Stool, Carved. The blueprints, patterns and schematics for these furnishings can be bought from Crafting Vendors. Charity Writs can be obtained from New Life Gift Boxes, although the drop rate is relatively low.
Crystalfrost Skin
[
edit
]
"The Crystalfrost skin is a cosmetic Alteration spell that gives a mortal the appearance of a Frost Atronach. Why would a mortal want to look like a Frost Atronach? Don't ask me, I don't even like putting on makeup." —Gabrielle Benele, Mages Guild
An ice-themed skin acquired by completing the "Newly Charitable" achievement, which involves completing 12 New Life Charity Writs.
2018 New Life Gift Box Loot
[
edit
]


The possible drops within New Life Gift Boxes include:
Crafting
[
edit
]
Furnishings
[
edit
]
A selection of lights, lamps, and lanterns for your home to celebrate the Signal Fire Sprint, for example:
Appearance Items
[
edit
]
New Life hats and costumes from previous years
Mementos
[
edit
]
New Life Mementos from previous years
Evening Star Rewards
[
edit
]
December 2018 Daily Rewards associated with the festival include:
Furnishing Items
[
edit
]
The following furnishing items can be bought from Heralda Garscroft in Elden Root, Wayrest, Mournhold or Vivec City if the associated achievement is unlocked.
Crown Store Exclusives
[
edit
]

Prior and during the festival, various items will be on sale in the Crown Store:
Enchanted Snow Globe Home
[
edit
]


"Get small to go large: this miniature Snow Globe Home is tiny on the outside but expansive on the inside, proving shrunken real estate is a big bargain! And to make the interior cozier, the exterior features an eternally-festive gentle snowfall. Magical!"
The Enchanted Snow Globe Home will be available to purchase for the first time.
Appearance
[
edit
]
Winter Broadbrims Hat Pack (ends 13/12/2018)
Furnishing Pack: New Life Festival
New Life Festival 2017
[
edit
]
The 2017 New Life Festival ran from December 15, 2017, until January 2, 2018. Similar to the New Life Festival of 2016, this event featured the chance to earn New Life Boxes by completing daily quests. Drops from New Life Boxes included a new motif, special themed recipes, and furniture.
2017 New Life Gift Box Loot
[
edit
]
2017 New Life Gift Box Loot
New Life Festival 2016
[
edit
]
The 2016 New Life Festival ran from December 15, 2016 and lasted until January 4, 2017. By completing the daily quests offered during this festival, players were able to find Skinchanger Style motifs, learn New Life Festival recipes, participate in parties for each Alliance race, and obtain exclusive collectibles. Completing the initial quest awarded the memento Breda's Bottomless Mead Mug, which could be activated repeatedly throughout the event to grant your character a 100% XP boost for two hours.
2016 New Life Gift Box Loot
[
edit
]
2016 New Life Gift Box Loot
Partaking in the New Life Festival will unlock several Holiday Events achievements. Unlocking all achievements will reward you with the "Magnanimous" title.
External Links
[
edit
]