Online:Betnikh
The UESPWiki – Your source for The Elder Scrolls since 1995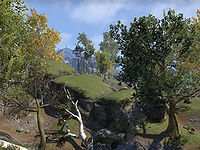 Betnikh is a small island off the southern tip of High Rock, with steep cliffs and a lush, fertile interior. Formerly owned by the Bretons, the island of Betony was conquered by the Orcs of the Seamount Clan centuries ago, and renamed Betnikh. The clan still inhabits the main stronghold, the Stonetooth Fortress.
The Stonetooth Fortress has recently been attacked by the Bloodthorn Cult; meanwhile, Captain Kaleen seeks to convince the clan to sign up to the Daggerfall Covenant. To travel to Stonetooth Fortress for the first time you must sail from Stros M'Kai via Gilzir.
Points of Interest
[
edit
]
Striking Locales
[
edit
]
Player Houses
[
edit
]
Wayshrines
[
edit
]
Unmarked Locations
[
edit
]
Quest Map
[
edit
]
Paths always enter a quest from the top or left, and leave a quest from the bottom or right.
Denotes a requisite path or quest. You must complete this before starting the subsequent quest.
Denotes an optional path or quest. The subsequent story quest can be started without this being completed.
Denotes an exclusive path or quest. Only one of the connected quests is required, and only one can be completed.
Denotes a quest which is part of the main story chain.
Denotes a story quest which is required for Cadwell's Almanac.
Denotes a missable pointer quest which is part of the main chain.
Denotes a missable pointer quest which is on an alternate path.
Daggerfall Covenant Quests
[
edit
]
Side Quests
[
edit
]
Skyshards
[
edit
]
Notable Loot
[
edit
]
Regular mobs have a chance to drop the following antiquity leads: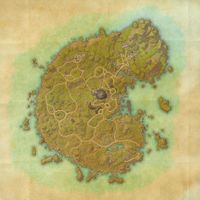 Gallery
[
edit
]
Betnikh can be reached by talking to the Boatswain Gilzir at the Daggerfall Harbor District (Glenumbra) or the docks of Port Hunding (Stros M'Kai). Note however that the map of Daggerfall says he only goes to Stros M'Kai.
Prior to Update 13, Betnikh was the only zone (other than Coldharbour) that could not be reached by normal means without completing quests in the previous zone. The only other way to get here before finishing the Stros M'Kai quest line was by teleporting to another player in your friends list, group, or guild(s).