Online:The Impresario
The UESPWiki – Your source for The Elder Scrolls since 1995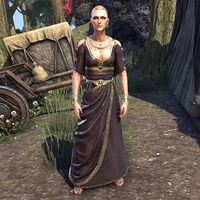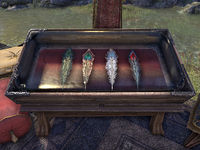 The Impresario is an Imperial event merchant who is located at the Event Exchanges located outside the main city of each alliance's starting zone. By exchanging event tickets with her, you can purchase special indrik feathers which can be used to obtain a special Indrik mount.
Dialogue
[
edit
]
General Dialogue
"Exotic, enchanted goods! Guaranteed to lift your spirits!!"
"An old sorcerer once told me my goods are part of a set. What might that mean, I wonder?"
"The discerning adventurer knows: A comely merchant with mysterious goods is always a boon. Probably."
"Come, let me get a look at you. And, more pointedly, you should buy from me."
"Is that a heroic silhouette I spy?"
"Attend! Show me your proclivity for festivity."
"Fancy a look at my extremely, profoundly exotic goods?"
"What might these magic trinkets do? I leave it to you to discover!"
"Treat with me, look over my goods, and give me a good story. I dare you."
"Keep your money - I'd rather enjoy your experiences."
Witches Festival
"Do you hear that distant, sonorous howl? Comforting, isn't it?"
"Ever feel like something is following you? Something hollow, perhaps?"
"Met the Witchmother? Wonderful person. Very… giving."
Clockwork City Celebration Event
"Hark! A curious, distant mechanical tone. What could that be?"
"This season: Fabricants and animunculi! You've not known life until you've seen a clockwork gala."
"What manner of fabricant sheds a feather? Who can say."
Undaunted Celebration Event
"Perfect time to rally with some companions and conquer some … random foe."
"This season: Adventure! Through the dankest holes, deepest ruins, and darkest woods, all."
"Undaunted aren't you? I don't accept keys."
New Life Festival
"Been caked in mud yet? Perhaps the plunge? Either favor the complexion, I hear."
"This season: The calendar turns! Everywhere has their own local custom, of course."
"So many treats this time of year! I favor all but the swamp fish."
The Impresario sells the following items:
Item
Description
Price
First Available
Emerald Indrik Feather
One of four Legendary Indrik Feathers. It is said that combining all four feathers will summon a Nascent Indrik that will allow its summoner to mount it. Nascent Indriks have the ability to evolve when fed the proper berries.

10

 
Witches Festival 2018
Gilded Indrik Feather
One of four Legendary Indrik Feathers. It is said that combining all four feathers will summon a Nascent Indrik that will allow its summoner to mount it. Nascent Indriks have the ability to evolve when fed the proper berries.

10

 
Clockwork City Celebration 2018
Onyx Indrik Feather
One of four Legendary Indrik Feathers. It is said that combining all four feathers will summon a Nascent Indrik that will allow its summoner to mount it. Nascent Indriks have the ability to evolve when fed the proper berries.

10

 
Undaunted Celebration Event
Opaline Indrik Feather
One of four Legendary Indrik Feathers. It is said that combining all four feathers will summon a Nascent Indrik that will allow its summoner to mount it. Nascent Indriks have the ability to evolve when fed the proper berries.

10

 
New Life Festival 2018