Online:Wrothgar
The UESPWiki – Your source for The Elder Scrolls since 1995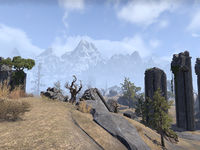 Wrothgar is a region situated in northeastern High Rock, north of Stormhaven. It was the first new neutral PvE zone with content for solo players and small groups to be released for Elder Scrolls Online. Orsinium, the ancestral capital of the Orsimer, is located in the eastern mountainous area within this region. King Kurog has declared Wrothgar as a "truce zone"; all adventurers are welcome, but agents of the Alliance War will not be tolerated here. There is animosity in the region between the followers of King Kurog, who are devoted to the ideals of Trinimac, and the chiefs of the Orcish clans, who follow the Code of Malacath.
It is a DLC zone added by the Orsinium DLC. Wrothgar also contains an entrance to the Icereach group dungeon, but the Harrowstorm DLC is needed in order to access it.
Points of Interest
[
edit
]
Striking Locales
[
edit
]
Set Stations
[
edit
]
Public Dungeons
[
edit
]
Group Dungeons
[
edit
]
World Bosses
[
edit
]
Player Houses
[
edit
]
Wayshrines
[
edit
]
Unmarked Locations
[
edit
]
Quest Map
[
edit
]
Paths always enter a quest from the top or left, and leave a quest from the bottom or right.
Denotes a requisite path or quest. You must complete this before starting the subsequent quest.
Denotes an optional path or quest. The subsequent story quest can be started without this being completed.
Denotes an exclusive path or quest. Only one of the connected quests is required, and only one can be completed.
Denotes a quest which is part of the main story chain.
Denotes a story quest which is required for Kingmaker.
Denotes a missable pointer quest which is part of the main chain.
Denotes a missable pointer quest which is on an alternate path.
Denotes a quest which rewards a Skill Point.
Reforging Orsinium
[
edit
]
Side Quests
[
edit
]
Daily Quests
[
edit
]
For more information on these quests, see this page.
Skyshards
[
edit
]
Clue
Location
Notes
Beneath the ruined aqueduct.
North of Watcher's Hold.
(map)
West of the cliff jumper's falls.
Southeast of Great Bay Wayshrine on a ledge overlooking the water behind a boulder.
(map)
Smuggled away in Shipwreck Cove.
Southeast of Old Orsinium on a ledge near water.
(map)
On a stonecutter's scaffold.
South of Graystone Quarry in a barrel on a platform.
(map)
There's a tricky jump to get the platform with the shard.
A seaside view from the cliffs of Morkul.
West of Morkul Stronghold on a platform close to the water.
(map)
Above the ancient barrow.
Atop Exile's Barrow with harpies.
(map)
Lost cargo on a frozen freighter.
Northwest of Frozen Fleet in a crate in between two ships.
(map)
Several Reikrs will jump off the ship's deck as you approach
Atop the frozen waterfall.
West of Forlorn Watchtower atop a cliff.
(map)
Overlooking the ice-bound centurion.
South of Nyzchaleft Falls with ogres.
(map)
Caught in the webs of the old city.
Inside Old Orsinium. east section with spiders in water and glowing flowers.
(map)
This room has constantly respawning spiders. If you're with a group, you can take turns grabbing it. If you're by yourself, you'll have to find a gap while they're still dropping from the ceiling to grab the shard.
Washed down river by Dwarven boilers.
Inside Rkindaleft, in the water near the Astrictive Valve.
(map)
Surrounded by silver.
Inside Argent Mine, in the southwest section.
(map)
An unusual egg for harpies.
Inside Coldperch Cavern, in the south hallway with harpies.
(map)
Several waves of Harpies will spawn as you approach the shard.
Pried from a necromancer's cold, dead hands.
Inside Thukhozod's Sanctum, in the hallway opposite the entrance.
(map)
Kept as a prize in the cold Dwarf tomb.
Inside Zthenganaz, in the northwest section.
(map)
In a subterranean spider oasis.
Inside Nikolvara's Kennel, prior to entering The Kennel.
(map)
Amidst the crumbling gargoyles.
Inside Watcher's Hold, east section near entrance.
(map)