Online:Orsinium
The UESPWiki – Your source for The Elder Scrolls since 1995
Explorable
Discoverable
Yes
Completion
None
Zone
Wrothgar
Houses
Other Buildings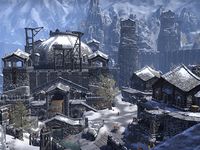 Orsinium is the largest city in Wrothgar, and the home of King Kurog. Completing quests and objectives in Wrothgar will contribute to rebuilding the city, returning it to its former glory.
The city is split into four districts. In the north, centred on the Temple of Ire, lies the Temple District[verification needed], which also contains The Greedy Gut, both city gates, and the stables. Immediately to the south is the Crafting District, containing Rime Hammer Forge and the Mages Guild, as well as the House of Orsimer Glories. South of the river is the Merchant District, containing marketplaces and trade stalls, as well as the Fighters Guild and Bank. In the east sits the Residential District, stretching from the King's Cornerclub to the imposing Scarp Keep, home of King Kurog.
Shops and Services
[
edit
]
Other Places
[
edit
]
†
Appears in this location during the related quest
Wayshrine

[

edit

]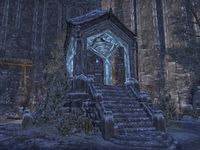 The Orsinium Wayshrine can be found in the southern quarter of the city.
Gallery
[
edit
]
The Letter from the Orsinium Orphanage and New Life Charity Writs mention donors for the Orsinium Home for Displaced Children, though it cannot be found in the city.
The book Return to Orsinium, released long before the DLC, mentions many locations such as the Caves of Dark Abundance, the Everember Forges, and the Malacath-worshiping Temple of Grievance that do not appear in the city. Some were likely early names for locations that do appear in the city.

It also mentions the Jugular as being the river that runs through the city, and the Obdurate Gates as the gate entrances.