Online:Those Truly Favored
The UESPWiki – Your source for The Elder Scrolls since 1995
This page is currently being rewritten as part of the Online Quest Project.
The page is being both written and checked. All users are welcome to make changes to the page. If you make a change that is relevant to the project, please update this template accordingly, and make sure you have observed the project guidelines.

| | | | | |
| --- | --- | --- | --- | --- |
| | | Find the Vengeful Eye and decide what to do with it. | | |
Dagarha, one of the Malacath faithful, learned Winterborn raiders seek the Vengeful Eye, an old relic of Malacath. She wants me to recover it before they can.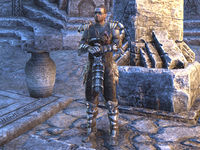 Quick Walkthrough
[
edit
]
Talk to Kyrtos in the Honor's Rest Catacombs.
Find the Vengeful Eye and report back to Kyrtos.
Decide what to do with the Vengeful Eye.
Detailed Walkthrough
[
edit
]
The Vengeful Eye is located in the eastern section of the caves, in the southeast portion of the room with the large pool and island. needs rest of walkthrough
Fate of the Vengeful Eye
[
edit
]
Once you have the Vengeful Eye and have spoken with Kyrtos, you have a choice about what to do with the Eye. There are three choices:
1. If you decide to return the Eye to Orsinium, return to Dagarha and speak with her.
"You bear the Vengeful Eye. I knew, because as soon as I saw you, Malacath whispered that I should kill you where you stand. Clearly a sign."
I have it, but I'd rather just give it to you.
"Of course, of course… its curse of vengeance has waned. It can be freely given, and need not be won through battle. Shameful. Shameful."
Here, take it.
"A great service to Malacath. He shall not forget. He never forgets. And now his eye is upon you. Do great works of vengeance in his name."

2. If you destroy the Eye, Kyrtos will be grateful:
"I'll return to my tribe. The hagravens will sense their search is hopeless. Perhaps we can finally go home."
Is it wise to return to your tribe?
"I should think so. I never touched the relic. They won't know my part in this."
Have you ever thought of leaving them?
"Not once. The tribe is home… it's family. We have our differences, but I can't imagine abandoning them. Sometimes I wonder if the hagravens take that from our thoughts. But not for long."
Could Malacath recreate the Vengeful Eye?
"Pah… who truly understands the mind of a Daedric Prince? They care little for what we do, even when it foils their schemes. For all we know, you've pleased him."

3. On the other hand, if you decide to take the Eye to the Shrine of Malacath, Malacath will speak to you through the statue, congratulating you:
"The Vengeful Eye is yours. Wear it at your breast... let it bathe in the splattering blood of your enemies. Feed it your wrath, your hatred, your vengeance! Until someone stronger takes your place"
Quest Stages
[
edit
]
Those Truly Favored
Finishes Quest
Journal Entry
Dagarha believes the Vengeful Eye is in the recently uncovered catacombs of Honor's Rest. I should head there and search for the relic.

Objective: Search for the Vengeful Eye

When I entered the catacombs near Honor's Rest, one of the Winterborn approached me. He wants to speak, and apparently doesn't want his fellow tribesman to hear. I should see what he has to say.

Objective: Talk to Kyrtos

Kyrtos wants me to recover the Vengeful Eye so this tribe will no longer be a pawn to the whims of Malacath. He suggested I search the Honor's Rest catacombs, near the grave goods.

Objective: Search for the Vengeful Eye

I found the Vengeful Eye near some grave goods I should retrieve it before the Winterborn can.

Objective: Retrieve the Vengeful Eye

Now that I have the Vengeful Eye, I should return to Kyrtos and see what can be done with it.

Objective: Talk to Kyrtos

I must decide what to do with the Vengeful Eye. I could return it to the Malacath faithful in Orsinium, rededicate it at the statue of Malacath, or destroy it for good in the forges behind the statue.

Complete one: Take the Vengeful Eye to Orsinium or Take the Vengeful Eye to Malacath's Shrine or Destroy the Vengeful Eye

(If the Eye is destroyed)

I destroyed the relic. Kyrtos seems incredibly relieved. I should speak with him.

Objective: Talk to Kyrtos

(If the relic is taken to the shrine)

The relic must be rededicated. I should pray in the shadow of Malacath's statue.

Objective: Pray at the Shrine of Malacath

(If the relic is taken to Orsinium)

The relic belongs with the Malacath faithful. I should speak with Dagarha about my reward.

Objective: Talk to Dagarha