Online:Edthas
The UESPWiki – Your source for The Elder Scrolls since 1995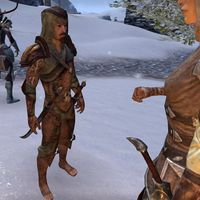 Edthas is a Bosmer who can be found outside of Skalar's Hostel in Orsinium.
Dialogue
[
edit
]
He can occasionally be overheard talking to Minalcil.
Edthas: "It's about time you woke up. Took you long enough." [verification needed — does he say this?]
Minalcil: "Well? Can we get out of this damnable weather yet?"
Edthas: "I'm afraid not. Skalar says guests for the king's moot take precedence."
Minalcil: "Lorkhan take the king's moot! We had an agreement!"
Edthas: "Please, keep your voice down! Don't call attention to us!"
Minalcil: "All right, all right. But if we have to spend another night out in the freezing cold …."
Edthas: "I understand. I'm sure we'll find an available room soon."
After the king's moot is finished Minalcil will wonder why there still isn't a room available at the inn.
Minalcil: "Isn't the moot over? Can't we have a room now?"
Edthas: "I'm not sure you're aware of everything that's happened …."
Minalcil: "I heard there was a ruckus at the moot. That shouldn't interfere with me getting out of the cold!"
Edthas: "People died at the moot!"
Minalcil: "Then I doubt they will need their beds!"
Edthas: "Chiefs have died and all you can think about is a room? Oh, very well."