Online:Cirantille
The UESPWiki – Your source for The Elder Scrolls since 1995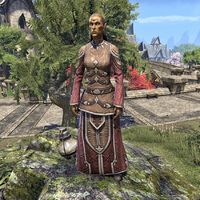 Cirantille is an Altmer bard who can be found on a rock in Skywatch, speaking to an audience. She is the author of several books, although despite her travels she seems to be rather prejudiced.
Cirantille also appears in Wrothgar, where she will need your help in recovering the pages of her research book.
Related Quests
[
edit
]
Quest-Related Events
[
edit
]
Scholarly Savage
[
edit
]
When you have accepted the contract from Arzorag, you can ask Cirantille more about the task. When you do the quest for the first time:
Subsequent times:
"So, ready for another journey into the frontier? I've heard that some more of those brutish ogres were sighted doing ... well, ghastly things with my book. That will not do."
You're certain ogres stole your books?
"Of course! You realize I'm probably the greatest expert on ogre habits you'll ever meet. The very books they stole are the definitive work on the subject.
I doubt there's anything I don't know about the creatures."
Why did the ogres take your books?
"How should I know? Really, do I look like an ogre?
I mean, even the greatest expert can learn something new if she's open-minded enough and keeps her eyes open. Maybe they're aping us, looking at the pages and pretending they can read."
What about Mad Urkazbur?
"A fascinating creature—the exception that proves the rule? Perhaps he's just a brutish freak, cursed with intelligence above his station?
Regardless, he must be slain and my books must be recovered. Can't have ogres thinking they're people!"
Once you have returned to Cirantille, she'll ask:
"I assume you've found my missing pages? Hand them over and I'll see what I can do with them."
Here's your book. And Mad Urkazbur is dead.
"Capital! Hmm, the cover's a bit bent and the pages are showing some boxing. Still, I appreciate your efforts.
I'll need more of these pages recovered eventually. I did bring several dozen copies of the book, after all. I hope you'll be available."
If she is spoken to after retrieving her book pages:
"Nothing pleases me more than the return of my text. To think, the world could have been deprived of this brilliant dissertation—by ogres, no less! You've done all of Tamriel a tremendous service."
Dialogue
[
edit
]
In Skywatch, she will say several things to her audience:
Even after she is killed, Cirantille may continue her racist tirades.