Online:Places
The UESPWiki – Your source for The Elder Scrolls since 1995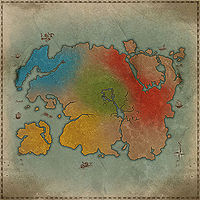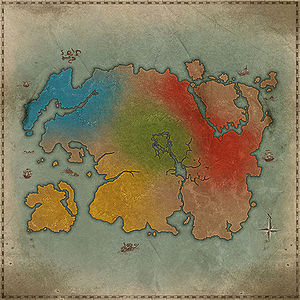 There are a large variety of places in The Elder Scrolls Online spread across Tamriel and beyond. This page lists the most important places sorted by type, as well as a list of zones. See Maps for an overview of the icons used for different types of places, and for other available maps in the game.
Place List
[
edit
]
Abyssal Geysers — Wave-based group events found only on Summerset
Battlefields — Sites of ancient and contemporary battles
Beacons — Watchtowers, lighthouses, and other free-standing signal towers
Bodies of Water — Lakes, rivers and seas
Camps — Bandit camps, guard camps, and other temporary settlements
Caves — Root hollows, lava chambers, ice caves, and all other types of natural cavern
Cemeteries — Graveyards, necropoli and other places where the (un)dead dwell
Cities — Major settlements in each zone
Crypts — Tombs, barrows, and other underground burial sites
Daedric Ruins — Ancient shrines to the Daedric Princes
Docks — Harbors, boatyards and shipwreck sites
Dolmens — Summoning locations for Molag Bal's Dark Anchors
Dragonscours — Locations where dragon hunting group events can occur
Dwemer Ruins — The ruins of ancient Dwemer cities
Elven Ruins — The ruins of ancient Ayleid and Aldmeri cities
Estates — Countryside houses, homesteads and other estates
Farms — Plantations and farmsteads
Forts — Towers, forts, keeps and other fortified locations
Gates — Milegates, passes, and other guarded thoroughfares
Groves — Glades, marshes, oases and other natural wildernesses
Harrowstorms — Wave-based group events
Landmarks — Other miscellaneous locations
Mines — Mining establishments and settlements
Mundus Stones — Magical stones which grant special passive abilities
Player Houses — Instanced locations that can be purchased and decorated
Realms — Places which exist outside of Nirn
Ruins — Nordic ruins, Yokudan ruins, and other ruins of contemporary civilization
Sewers — City sewerage systems
Ships — In-service, under construction, and scuttled ships
Strongholds — Major locations in Coldharbour visited during the Main Quest
Towns — Towns, villages, and other permanent settlements
Wayshrines — Access points to the fast-travel system
Places by Gameplay
[
edit
]
Alliance War and Battlegrounds
[
edit
]
Minor Locations
[
edit
]
Neutral and Disputed
[
edit
]
Chapter Zones
[
edit
]
Story DLC Zones
[
edit
]
Unzoned — A listing of places which are not part of any zone or their associated storylines.