Lore:Sea of Ghosts
The UESPWiki – Your source for The Elder Scrolls since 1995
This page is currently being redesigned for the Lore Places Project (LPP).
The page may need work to meet the standards outlined on the project page.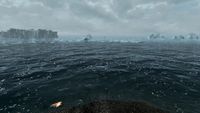 The Sea of Ghosts, also known as the Ghost Sea,[1] and the Northern Sea[2] is the name for the waters to the north and northeast of Tamriel.[3] The Sea of Ghosts is part of the Padomaic Ocean; it meets the Abecean Sea off the coast of northwestern High Rock, and the Inner Sea along the shores of northern Morrowind. Some exploration of the sea has yet to be completed, and icebergs are a common sight in its cold, misty waters.[4][5] The island of Solstheim is located in the Sea of Ghosts, and the island's Harstrad, Iggnir and Isild rivers flow into it. The Nedic people sailed from the northern continent Atmora to Tamriel across this sea.[6][7]
A major eruption of the giant volcano Red Mountain changed the face of Morrowind in 1E 668. The Sea of Ghosts' icy waters filled the chasms created by the shifting land masses of the sub-continent, and thus the Inner Sea and the island of Vvardenfell were born. The needle-like rocks in the Sheogorad region make the islands here almost unreachable by ship, and only Dagon Fel offers a harbor and scheduled services. Foyada Bani-Dad and the Valley of the Wind, two foyadas or "fire-rivers", pour lava into the Sea of Ghosts when Red Mountain erupts. The city of Blacklight is located along the coast on the mainland of Morrowind.
Skyrim has three major coastal settlements on the Sea of Ghosts. Solitude is a major port city, and its docks are protected from the sea by the Great Arch and sheltered sea caves. Dawnstar, the northernmost city on mainland Tamriel, is also an important port, used by both local fishermen and ships on their way to Solitude. Winterhold is located on cliffs overlooking the Sea of Ghosts. The majority of the city fell into the sea during the Great Collapse of 4E 122. The Karth River, White River and River Hjaal flow into the Sea of Ghosts. Castle Volkihar, an ancient vampire lair, is located just off the shore.
Gallery
[
edit
]
See Also
[
edit
]
References
[
edit
]
^ Pocket Guide to the Empire, 3rd Edition: The Throat of the World: Skyrim — Imperial Geographical Society, 3E 432