Lore:Snowhawk
The UESPWiki – Your source for The Elder Scrolls since 1995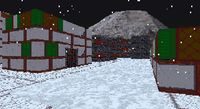 Snowhawk (currently known as Fort Snowhawk)[1] was one of the eight-major cities in the province of Skyrim,[2] situated in the outer marshes of Hjaalmarch, west of the hold capital of Morthal, along the main road towards Haafingar.
History
[
edit
]
During the Imperial Simulacrum in the late-Third Era, the city-state of Snowhawk was an active settlement. It was ruled by King Torbens and it had a rivalry with Solitude. At this time, Snowhawk was the seat of a Kingship, which lasted for an unspecified amount of time.[3] It was neighbored by several settlements, including Dunstad Grove to the east, Lainalten to the south, and Markarth Side to the north.[2] By the Oblivion Crisis in 3E 433, there was a small settlement found outside of the city of Snowhawk.[4]
At some point, Snowhawk would later become abandoned, and by 4E 201 the ruins of Fort Snowhawk were occupied by a local Necromancer coven. During the Stormcloak Rebellion, the fort served as a point of contention between the Imperial Legion and the Stormcloaks, with both sides struggling for control. Fort Snowhawk would play a pivotal role in the conflict, serving as Hjaalmarch's regional stronghold.[5]
Gallery
[
edit
]
Arena was originally conceived as a fighting game featuring a tournament that took the player to each of Tamriel's cities to challenge different gladiatorial teams. According to a file from that stage of development left behind in the final game, Snowhawk's gladiatorial team would have been called "the Frost Demons".[UOL 1]
Outfit style Snowhawk Mage that might reference to the Snowhawk city is obtainable in ESO[6]. Despite this, Snowhawk was confirmed by Art Director CJ Grebb to not have existed yet during ESO's timeframe.[7]
See Also
[
edit
]
References
[
edit
]
Note: The following references are considered to be unofficial sources. They are included to round off this article and may not be authoritative or conclusive.