Lore:Morthal
The UESPWiki – Your source for The Elder Scrolls since 1995
This page is currently being redesigned for the Lore Places Project (LPP).
The page may need work to meet the standards outlined on the project page.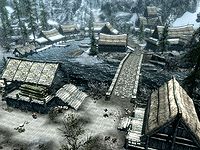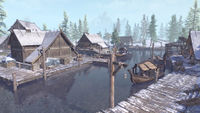 Morthal, supposedly named after the great Nord hero Morihaus,[1][2] is the capital of Hjaalmarch. It is a fairly small, humble town of little economic or strategic importance besides its small lumber mill.[3] The town's symbol is a green triskelion.[4]
Sitting on the southern edge of the Drajkmyr marsh,[5] dry ground can be hard to come by in Morthal. It is often shrouded in a thick fog. Ominous twisted trees grow from the surrounding marsh, giving it a foreboding appearance to approaching travelers. The torches of the town glowing in the fog often give the impression of wisps at a distance. Many choose to steer clear of the place altogether.[6]
Morthal's small population and relatively remote location have kept it distant from most major conflicts in its history. The citizens of Morthal are known to be reclusive and cautious of outsiders. Many alchemists travel to Morthal and its surrounding marshes to make use of the plethora of rare and useful ingredients available. Bull Mastiffs from Morthal are fearless and tireless hunters inured to the hardships of the frozen marshes, and are owned as pets by many across the land.[7]
Residents of Morthal have passed down the legend of the Pale Lady for untold years.[8] They tell of a dangerous ghost woman who prowls the marshes to the north of town seeking her lost daughter, who is thought to be linked to "Aumriel" (mentioned in ancient records as a foe defeated by the descendants of Ysgramor).[8]
Gallery
[
edit
]
Concept maps reveal an early name for this location was Flodheim.[9]
See Also
[
edit
]
References
[
edit
]