Lore:Padomaic Ocean
The UESPWiki – Your source for The Elder Scrolls since 1995
This page is currently being redesigned for the Lore Places Project (LPP).
The page may need work to meet the standards outlined on the project page.
Padomaic Ocean
Type
Body of Water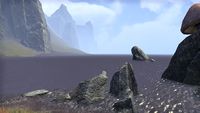 The Padomaic Ocean encompasses all of mainland Tamriel. The continent of Akavir lies across the Padomaic Ocean to the east, and the continent of Atmora lies across the Sea of Ghosts to the north. The Padomaic Ocean meets the Eltheric Ocean in the west.