Lore:Japhet's Folly
The UESPWiki – Your source for The Elder Scrolls since 1995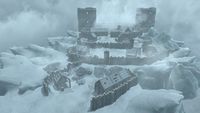 Japhet's Folly is a fort on the inhospitable Rockjoint Island found northeast of Winterhold, off the coast of Skyrim in the Sea of Ghosts. It is known for its rough climate, lack of habitability, and tales of ghosts by the people of nearby Dawnstar. A sailor by the name of Japhet decided to build a large citadel here, only to pass away from the sheer cold and the isolation, hence the name.[1]
History
[
edit
]
At some point, the Nordic sailor, Japhet led a small band of warriors from Dawnstar to build a fortress on the island and prove himself. However, after the first winter, several people had left to return to the mainland. When even his couriers left the island, Japhet decided to take up farming and become self-sufficient as his father once was. With his grain supply eventually running low he wrote to his journal "The ghosts are speaking to me now, the more of this icemoss that I eat, the more clearly I can hear them.". [1] Eventually Japhet found his demise in the sea caves. Ever since it has been called Japhet's Folly.[2]
In 4E 201, the Blood Horkers led by the storm mage Haldyn, took refuge in the fortress on Japhet's Folly. The pirates had struck a deal with the Shatter-Shield Clan to destroy any passing ships between Hammerfell and Vvardenfell, except for clan ships which raised suspicion in the East Empire Company in Windhelm.[3] This led to a siege on Japhet's Folly by the EEC that led to the death of Haldyn and the broken deal with the Shatter-Shields.[4]
References
[
edit
]