Lore:Giant's Tooth
The UESPWiki – Your source for The Elder Scrolls since 1995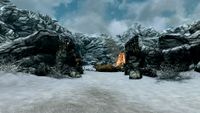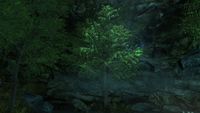 Giant's Tooth is an island off the coast of Skyrim, located in the Sea of Ghosts northeast of Winterhold. It is reachable by ferry from Dawnstar.[1]
The island was known for the temperate environments found within Iron Tusk Cave. The humid environments within this cave allowed for the survival of a grove of Ironwood trees.[1] By the Fourth Era this once common tree was rendered nearly extinct in Skyrim, no longer being found at such northern latitudes.[2]
Circa 4E 201, the island was populated by giants. They had set up a camp outside Iron Tusk Cave, killing the fishermen who were already encamped there.[1] According to some accounts, the Last Dragonborn journeyed to the island that year to obtain some Ironwood Fruit for use in a cure for a man in an advanced state of ataxia.[3] However, it is uncertain if the Dragonborn ever stepped foot on the island.[4]
References
[
edit
]