Lore:Yath
The UESPWiki – Your source for The Elder Scrolls since 1995
Yath
Type
Island
Continent
Yokuda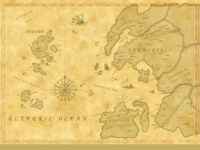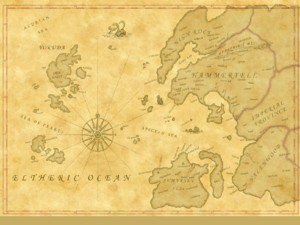 Yath (also spelled Vathi) is a large island due south of Akos Kasaz in the Yokudan archipelago, between the Azurian Sea and the Sea of Pearls. Yath is arid and rugged, with a spine of jagged mountains.[1] The small island of Bahia is its nearest neighbor. One known settlement is Makan, found on the west side of the island.[2]
Yath is home to a breed of snake called the Yath Asp, which according to the Crowns are huge and have a big temper. They used to serve Lefthanded Elves as pets, and Asp-Leather was fashioned by them into garments resistant to cuts and gouges.[3]
History
[
edit
]
Colonists from Yath, led by King Xakhwan, were responsible for exterminating the Corelanya Clan along the coasts of Hammerfell during the Yokudan migration in the ninth century of the First Era. They also settled in the Ayleid ruins of Salas En, inhabiting the site for over a thousand years until being driven out around the time of the Thrassian Plague.[4]
The original spelling Vathi is seen on the map of West Tamriel, but the island is called Yath in other sources.
References
[
edit
]