Lore:Stirk
The UESPWiki – Your source for The Elder Scrolls since 1995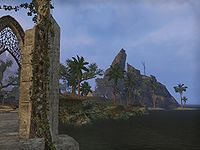 Stirk is an island off the Gold Coast of Cyrodiil, in the Abecean Sea.[1]
The historic island was at one time colonized by the Ayleids, whose white limestone ruins dominate the tropical landscape. In the First Era, it was where the leaders of Tamriel assembled the All Flags Navy to do battle with the Sload.[2] Though claimed at times by Valenwood, the Gold Coast, and Hammerfell, the uninhabited island is really a no-man's-land. The pirates of the Abecean were known to use the Ayleid ruins as arenas for settling disputes through trial by combat.[3]
In 2E 582 a meeting took place here between the three leaders of the Alliance War, as Stirk was considered neutral territory. The meeting was facilitated by the Fighters Guild and Mages Guild, and aimed to discuss a possible invasion of Coldharbour in response to Molag Bal's attempted Planemeld. Before an agreement could be reached, Molag Bal sent Daedra to the island to kill the alliance leaders. The attackers were repelled, and the leaders quickly gave their consent for an invasion, having seen the Prince's influence firsthand. A force was then assembled from the ranks of the two guilds, and a portal to Coldharbour was opened on the island.[4]
Gallery
[
edit
]
References
[
edit
]