Lore:Blackbone Isle
The UESPWiki – Your source for The Elder Scrolls since 1995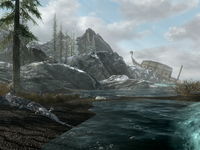 Blackbone Isle is a small isolated island located in the Sea of Ghosts, north of Forgotten Vale and southwest of Castle Volkihar. The island consists of a small strip of coastline as well as the entrance to a cave known as Blackbone Isle Grotto.[1] It takes less than a day to sail to Blackbone Isle from the northwestern shore of Skyrim.[2] It housed the treasure and wealth amassed by Cyrus the Restless.[3][4] It is plagued by undead, such as bonewolves, ghosts and zombies.
History
[
edit
]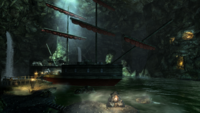 Claims of unknown origin suggest that Cyrus took command of the legendary ship Dead Man's Dread and sailed north to the Sea of Ghosts, where he amassed a great fortune. Blackbone Isle was mentioned as a possible location of his famed treasure.[3]
By 3E 39, the Dead Man's Dread was captained by an unknown individual who had come into possession of several relics once belonging to Cyrus, including his sabre and clothing. On the 2nd of Frostfall 3E 39, the crew of the Dead Man's Dread sailed into a subterranean pirates' den on Blackbone Isle to winter there after their captain died under mysterious circumstances. The ship and crew became trapped underground after the entrance to the grotto collapsed that night. It transpired that both the captain's death and the tunnel's collapse were the work of a Forebear named K'avir, who had orchestrated the death of the entire crew due to their allegiance to the Crowns. Realizing their dire circumstances, the crewmembers decided to commit suicide rather than face starvation. They each prayed to Arkay to bind their souls to the ship, to honor their captain's dying wish, and protect the relics of Cyrus in undeath.[5]
As of the 4E 201 the location of the isle was a secret known to a select few.[2] In the same year, Celeste, the leader of the remnants of the Blackwater Brigands sought to travel to the Blackbone Isle, tempted by the tales of a grand seafaring vessel known as the Dead Man's Dread Before making their journey to the isle, they camped out at the wrecked ship known as the Orphan's Tear, and were wiped out when the Last Dragonborn encountered them while similarly seeking the Dead Man's Dread. The Last Dragonborn then sailed to Blackbone Isle chasing rumors of Cyrus' lost treasure and cleansed the island of undead, claiming both the relics, the ship, and the island in the process. The Dragonborn later received a note containing a word of advice from a pirate who only identified themselves as "a restless soul."[4][6]
See Also
[
edit
]
References
[
edit
]