Skyrim:Special Edition
The UESPWiki – Your source for The Elder Scrolls since 1995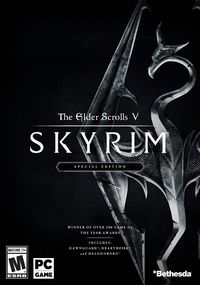 The Skyrim Special Edition is a remastered version of Skyrim released in October 2016. This version is only available on PC, Xbox One and PlayStation 4. The Special Edition features remastered textures, upgraded graphics including new shaders and volumetric god rays, and dynamic field-depth. It includes all three official add-ons, and allows users of the console versions to use approved unofficial mods for the first time in an Elder Scrolls game. PS4 mod support is limited and only allows the use of assets already included within the game.
The Special Edition has all the original Patches installed, and there is ongoing patch support with the Special Edition Patch. Unlike the original PC release, the Special Edition is 64-bit. For system requirements, see the official specifications.
Content Differences
[
edit
]
Gameplay Differences
[
edit
]
Torturer's Hoods can be obtained by looting from various NPCs, including the Torturer and generic Thief enemies. They could not be looted in the original release.
Reverting from Beast Form will automatically reequip you with the items you were wearing before turning. In the original release, your character would be naked.
Sprinting is a toggle in the Special Edition. In the original, it was required that you hold down the sprint key.
Vampire settlement attacks appear to have been removed.[verification needed — This fact needs to be checked]
Achievements and trophies are disabled when the Special Edition is loaded with mods, on both PC and console. However, the use of console commands does not affect them. Mods did not affect achievement progress on the original PC release.
Patches for the Special Edition have added additional functionality and scripting to the vanilla game in order to support certain Creation Club content.
A bug first introduced by Dawnguard which would prevent wolves from howling has been fixed as of Special Edition Version 1.5.39.
Achievements and trophies are tracked separately for the Special Edition.
In order for console users to use unofficial mods they must first create an account at Bethesda.net. Trophies and achievements will be disabled on console when using save games with mods.
Steam users can use unmodified save games from the original game (but not modded save games) by copying or moving the save file from the Skyrim folder to the Skyrim Special Edition folder.
Unlike the original release, the Steam Special Edition does not have trading card support.
Unlike the Xbox 360 version, Kinect Commands are not available on Xbox One.
Flow-based water shaders and screen space ambient occlusion were originally developed as part of the Game Jam.