Skyrim:Fishing
The UESPWiki – Your source for The Elder Scrolls since 1995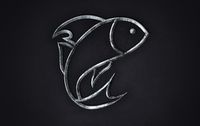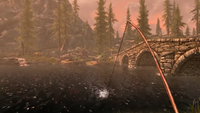 Fishing is a Creation that adds the ability to catch fish with a fishing rod and supplies. It also adds other things outside this function to go along with the content. It was released on November 11, 2021 for free to all Special Edition owners.
Official Summary
[
edit
]
Test your mettle as a fisherman in a brand new series of fishing quests, and catch over twenty new aquatic species in waters across Skyrim! Cook them or display them in Lakeview Manor, Heljarchen Hall and Windstad Manor in your home aquarium! (Initial quest, "Angler Acquaintances," starts by using any Fishing Supplies scattered across Skyrim.)
QuakeCon 2021
[
edit
]
Ashley Cheng during the Reliving the Opening of Skyrim with the Creators from BGS stream:
"You know what, I think 10 years is a long time to wait but I think it's worth it, we're putting a fishing mechanic in the game, It's one thing that I've always wanted to do in Skyrim.
"You're running around the world, exploring the wilderness, you don't have to dive in the water and click blindly anymore, you can now grab a fishing pole, do some fishing quests. It's a great addition to the game, it'll be free to everyone, and it really adds to the immersion of the world of just running around Skyrim; you can now go and fish."
Join us on 11/11 for the Skyrim 10th Anniversary Fan Celebration!
[
edit
]
Finally, we have some exciting announcements for the game itself. Current and future owners of The Elder Scrolls V: Skyrim Special Edition on any platform including Xbox Game Pass Subscribers will receive access to three free pieces of Creation Club content: Fishing, Survival Mode and even new quests with Saints and Seducers.
First Look at Skyrim's upcoming Anniversary Edition and the Creation Club content
[
edit
]
On the topic of obtaining your own food, Skyrim's all-new Fishing mode creation lets you angle over 20 unique aquatic species across the area's many bodies of water. Cook your catch for a meal, display it as trophy in your den or even keep it inside your own home aquarium – the choice is yours! With many of Skyrim's fishing spots located in the region's most breathtaking and tranquil spots, there's nothing like unwinding on the shores as you tackle (pun intended) the questlines in this upcoming free creation.
"I have been eagerly awaiting the release of this round of creations," says Daniel Lee, Senior Artist and Creation Club development lead at Bethesda Games Studios. "I've wanted fishing in Skyrim ever since the beginning and now it is finally here. We've worked hard on this program and it has been a true labor of love; there are more than a few surprises tucked away and I can't wait for everyone to find them."
Activities, Drops, and Locations
[
edit
]
The act of fishing has many variables that go into determining what the player catches. The most important of these are the biome the player is fishing in, the time of day, the population of fish at the fishing spot, the rod the player is using, and any quests that the player may have active.
Artifacts that are not related to quests can be fished out of any fishing location, though only one copy of each artifact can be collected in a single playthrough.
There are a total of 69 fishing spots along Skyrim's many bodies of water
For more information, please see the main article.
Content
[
edit
]
See Fishing Items for a detailed list of items added by the creation.
Creatures
[
edit
]
Gallery
[
edit
]
The first semi-official introduction of usable fishing rods was in Chesko's Art of the Catch, one of Valve and Bethesda's short-lived paid mods.
Fishing was meant to appear in the original game as an NPC-exclusive animation, similar to walking around with firewood or baskets. There are only a handful of markers leftover from this concept, with only Klimmek still having an AI package that actually uses one of these markers. However, since the animation doesn't get used, Klimmek just stands in place doing nothing.