Skyrim:Bone Wolf (creature)
The UESPWiki – Your source for The Elder Scrolls since 1995
This page or section is incomplete. You can help by adding to it.
needs info on where generic Bonewolves are encountered
For more information, see the help files, the style guide, and this article's talk page.
Bone Wolves are undead wolves added by the Bone Wolf Creation. They are a common type of Nordic undead often found in the company of necromancers. For more information, see the lore article.
Bone Wolf
[
edit
]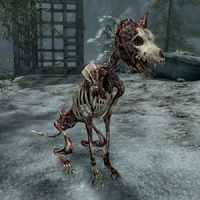 A pet Bone Wolf can be obtained during the related quest by returning its Totem Bone. It is initially found locked inside a cage at the necromancer's camp.
The Bone Wolf is essential, and will not engage in combat. Its main function is to carry items, and it has a carry weight of 75 and it will follow you even if you already have another pet following you. You can instruct it to wait at a city, wait at its current location, wait at your house, or to carry items. It can also be summoned using a teleportation spell.
Bone Wolf's Revenge
[
edit
]
"Increases damage on the undead by 25% while Bone Wolf is in your company."
When following you, the pet Bone Wolf grants an ability named "Bone Wolf's Revenge" which makes your spells more effective against undead.[verification needed] This functions identically to the Necromage perk and stacks with this perk multiplicatively.
Related Quests
[
edit
]
Bonewolves
[
edit
]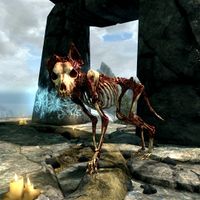 Hostile Bonewolf enemies can be found throughout Skyrim with this Creation installed.[verification needed — need details of how they spawn]
Creature (ID)
Lvl

Sta.

Attacks
Drops
Soul
Bonewolf
(

FE

xxx

865

)

PC×1 (range=5-30)
10 + (PC-1)×10
0
20 + (PC-1)×5
Bone Meal
Varies
They can be found in the following locations:
Thrall Wolves
[
edit
]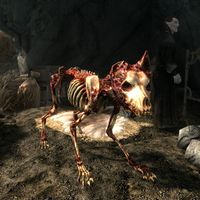 Hostile Thrall Wolf enemies are encountered at the necromancer's camp northwest of Folgunthur during the quest Let Sleeping Wolves Lie.
Creature (ID)
Lvl

Sta.

Attacks
Drops
Soul
Thrall Wolf
(

FE

xxx

80C

), (

FE

xxx

80D

)

PC×1 (range=5-60)
10 + (PC-1)×10
0
20 + (PC-1)×5
Bone Meal
Varies