Skyrim:Wolf
The UESPWiki – Your source for The Elder Scrolls since 1995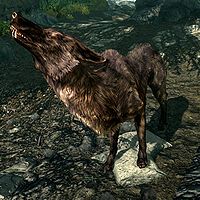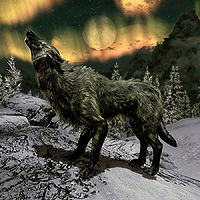 Wolves are low-level, hostile canines found throughout the wilds of Skyrim and SolstheimDB. They can be encountered singly, or in packs of up to three, often hunting other animals. You will often hear their howls before they are spotted. When attacking, wolves will often attempt to circle around behind their prey, and their bite has a chance of infecting the player with Rockjoint. Wolves will not attack beast form werewolves unless provoked.
Creature (ID)
Lvl

Sta.

Attacks
Drops
Soul
Wolf
(00

023ABE

)

2
22
0
205
0
Wolf Pelt

(1 × 100%)


Minor loot: gold, leveled ring, gem

(1 × 10%)

Petty
Pit Wolf
(00

0DDCD0

)

Ice Wolf
(00

023ABF

)

6
137
255
50
Ice Wolf Pelt

(1 × 100%)


Minor loot: gold, leveled ring, gem

(1 × 10%)

Lesser
Locations
[
edit
]
Cragslane Cavern - Two pit wolves in cages at the entrance of the cave
Faldar's Tooth - A large number of wolves are found in the fort, although some of them will attack the bandits aswell
White River Watch - An imprisoned wolf can be saved but it will still attack you after killing all the bandits
Hearthfire
[
edit
]
With the installation of the Hearthfire add-on, you have the ability to create wolf statues in the trophy room addition of any homestead, should you choose to build it. Available options include a regular wolf on a large base and an ice wolf on a small base. The materials needed for each option are:
Wolf
Ice Wolf
Wolves will stop howling after Dawnguard is installed.