Skyrim:Survival Mode
The UESPWiki – Your source for The Elder Scrolls since 1995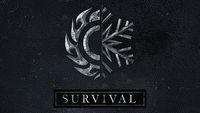 Survival Mode is a Creation that introduces a new gameplay mode for Skyrim Special Edition. It was released for PC through Steam beta on September 28, 2017 and became available on PC, Xbox One, and PS4 on October 4, 2017. It was free for the first week of release and now costs 500 CC Credits to purchase.
This Creation works well in conjunction with the Camping and Adventurer's Backpack Creations, which help alleviate some of the difficulties in Survival Mode.
Official Summary
[
edit
]
In Survival Mode, your greatest adversary is Skyrim itself. Unrelenting cold, harsh wilderness, famine and fatigue - do you have the strength to endure? (Creation features new gameplay mode including new UI, and can be turned on or off in Settings menu. For details, consult Help Menu. If you start a new character, Survival mode does not enable until after you leave character generation.)
Overview
[
edit
]
Survival Mode introduces several challenging changes to gameplay and new gameplay features in order to transform the majority of the map into a harsh, cold wilderness. Survival can be played on any Difficulty setting, with Legendary difficulty recommended for the most challenge.
Most Survival features are disabled until after the quest Unbound is completed.
The specific changes are as follows:
Tips for Survival Mode
[
edit
]
You can gain access to free beds and food by raising an NPC's disposition. Completing favor quests, such as chopping wood, is an easy way to accomplish this.
You cannot die of cold while in Werewolf or Vampire Lord form.
The Ring of Namira is a great artifact for survival, as you can feed on dead humanoid enemies, even on vampires.
The most weight effective player cooked food is the Salmon Steak and Steamed Mudcrab Legs.
Swimming while riding a horse prevents freezing from cold water.
You can gain health regeneration if you fortify your health regeneration, for example by the Lady stone, as survival only reduces it by 100%, but does not disable it.
You can use dragon lairs to move around fast after you have unlocked the Bend Will shout. The dragons won't give you a dragon soul once they respawn so they can safely be left to fly back to be used later without the need to wait for the lair to respawn.
It takes 11 hours of rest to restore you completely from absolute fatigue.
It takes 1334 units of food to become well fed after being completely starved.
Content
[
edit
]
Items