Skyrim:Farming
The UESPWiki – Your source for The Elder Scrolls since 1995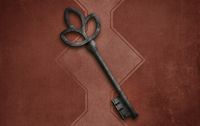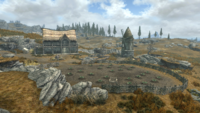 Farming is a Creation that allows you to build and manage your own farmstead at Goldenhills Plantation.
Official Summary
[
edit
]
Build, upgrade and manage your own farmstead in the heart of Whiterun. Elect a steward to oversee its day-to-day operation and purchase upgrades such as animal pens, windmills, apiaries and stables. Whether it's building a commercial empire, growing crops or working with animals, there are no shortage of gameplay options here. Created by Virginia "Steelfeathers" Smith. (The "The Unquiet Dead" quest starts by investigating Goldenhills Plantation, east of Rorikstead.)
Content
[
edit
]
Construction

Items

Books

Keys

NPCs

Places

Quests
The Alembic in the secret lab and the Broken Iron War Axe Head and Handle in the box on the second floor will disappear and will not respawn once the rooms are renovated. The Nord War Horn in Rin's room however will still show up after renovations.
Rin's Toy Sword becomes a static object once it's put in place. It can be knocked off the dresser but can no longer be picked up.