Skyrim:Farming Construction
The UESPWiki – Your source for The Elder Scrolls since 1995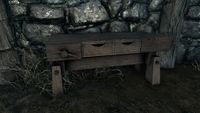 A number of construction options are available at the Goldenhills Plantation via the Farmer's Workbench. This workbench will appear during the quest A Farmer's Life For Me and you will be required to use it to build an animal pen. Once you've built everything available, you will have the option to permanently remove this workbench.
The following is a list of possible construction options available for your farm. It is not necessary to purchase or build all furnishing options; you can pick and choose to better dictate style. However, all furnishing options are in a pre-arranged location and only ingredients and standard items can be moved. Oftentimes, the name of the furnishing option only indicates the primary object to be added, and actually includes various additional containers and accessories.
The main difference between this and Hearthfire construction is that you will not require any Sawn Logs for your farm. Instead, you will need to gather Firewood to use.
Construction
[
edit
]
Exterior
Parts
Materials
Description
Animal Pens
3 Firewood, Nails
Builds animal pens. Allows cows, goats, and chickens to be purchased for the farm.
Apiary
2 Firewood, Nails, 2 Straw
Builds 2 apiaries that produce bees, honeycomb, and honey.
Blacksmithing Workshop
4 Iron Ingot, 2 Firewood, Hinge, Iron Fittings, 2 Quarried Stone
Builds a blacksmithing workshop. Includes an anvil, grindstone, armor workbench, tanning rack, and smelter.
Exterior Decoration
2 Firewood, 3 Quarried Stone
Builds a well and planter boxes. Also adds exterior furniture and decorations to the farmhouse.
Farmhand Bunkhouse
5 Firewood, 2 Nails, Hinge, Lock, 5 Quarried Stone, 3 Straw
Builds a cottage for your hired help. Increases the productivity of the farm.
Stable
5 Firewood, 3 Nails
Builds a stable. Allows a horse to be purchased for the farm.
Windmill
2 Firewood, 2 Iron Fittings, 2 Quarried Stone
Upgrades the silo into a windmill and adds a grain mill for turning wheat into flour or straw.
The total requirements above amount to: 4 Iron Ingot, 21 Firewood, 2 Hinge, Lock, 3 Iron Fittings, 12 Quarried Stone, 7 Nails, 5 Straw.
See Also
[
edit
]
Personal Steward — Furnishing options you can order your steward to obtain for Goldenhills Plantation
Locations
Main House
East Wing
North Wing
West Wing
Other