Skyrim:Camping
The UESPWiki – Your source for The Elder Scrolls since 1995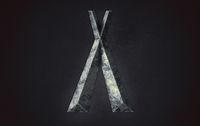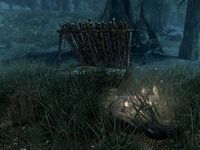 Camping is a Creation that adds a movable campsite for sleeping and cooking in the wilderness. It was released on April 5, 2018 for 300 CC Credits. The Creation's features work well with Survival Mode.
Official Summary
[
edit
]
Make Skyrim that much more accommodating with this cozy movable campsite, complete with a lean-to for sleeping, campfire for warmth and some cooking, and a new fast travel marker (Creation craftable via Forge)
Overview
[
edit
]
This Creation adds the ability to set up a campsite out in the wilderness. It consists of a shelter to sleep in, a campfire to cook a limited number of food items, and a crate to sit on. Once placed, the campsite also gets a map marker which can be used for fast travel. To set up or move your campsite, you will first need to craft Camping Supplies. This item requires three firewood and one piece of leather and can be crafted at any forge or anvil. Upon setting up camp for the first time, you will be given a brief tutorial message:
"Campsites allow you to rest and stay warm while exploring the wilderness. You can cook a limited number of meals over the campfire. Your campsite is marked on your map so you can locate and fast travel to it later."
The reference to staying warm refers to the WarmthCC mechanic added by the Survival Mode Creation. The Camping Creation is intended to be used in conjunction with Survival Mode, due to the new requirements relating to warmth and sleep which are imposed in that mode. With Survival Mode enabled, the campfire will allow you to warm up by staying near it,[verification needed] and will also allow you to craft a limited number of hot soups for later use.
This Creation also adds a new loading screen relating to campsites.
Content
[
edit
]
Places