Lore:Telvanni Peninsula
The UESPWiki – Your source for The Elder Scrolls since 1995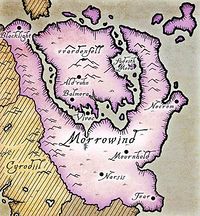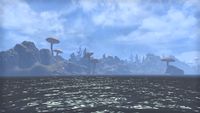 The Telvanni Peninsula (or Telvanni Coast)[1] comprises the eastern arm of mainland Morrowind, and is bracketed by the Inner Sea to the west and the Padomaic Ocean to the north and east.[2] The region is characterized with rocky coasts and islands, as well as a couple of small settlements.[3] The northern half is cold, while the southern half is temperate, and the area between them is hilly.[4] The city of Firewatch is found on the coastline of the peninsula; it is unclear how far south the peninsula goes and whether Necrom is considered part of it.
House Telvanni also has holdings on the northern half consisting of Firewatch, Velothis Haven,[5] Llothanis Heights (Karththor Heights), Helnim Wall, and Greenheights,[6] and staking claim over the east coast of Vvardenfell facing the Peninsula,[UOL 1] hence they are the namesake of the region. The "extreme northeast" is inhabited by the Telvanni, who prefer to tend their herds of giant insects amid the rocky hills and islands of that corner.[7] House Telvanni cares little for what lies outside of their sanctuary on the coast.[8] The Ruby Shroom Shalks are popular house pets here.[1]
Necrom, Sailen Vulgate, and Draloris (Dragon Glade)'s Great House affiliations are unknown, though each lies within the borders of Indoril District. The Indoril control much of the central highlands and western coast, while Dres controls the eastern coast south of Necrom up to Alavelis.[9] The Dwemer ruin of Kemel-Ze is found along the sheer coastal cliff, with easy access to it from boats and nearby mainland villages such as Marog.[10]
If the Telvanni Peninsula goes south of Necrom to the point where it meets Mournhold, it borders many other regions of Morrowind, notably sharing the Inner Sea waters of Zafirbel Bay with Vvardenfell, separated by the Vvardenfell Rift.[10] In the Padomaic Ocean, the isles surrounding Port Telvannis[UOL 2][UOL 3] are found across the Sea of Ghosts to the northeast while the isle of Gorne is found not too far from the coast of Necrom. On the mainland, the peninsula meets with Bal Foyen and Deshaan to the south, being visible from Stonefalls.[11]
A concept map of Morrowind suggested that Necrom and Sailen Vulgate's House affiliation may be House Dres, Draloris (at the approximate site of Dragon Glade) was affiliated with House Indoril.[UOL 4]
References
[
edit
]
Note: The following references are considered to be unofficial sources. They are included to round off this article and may not be authoritative or conclusive.