Lore:Khuul
The UESPWiki – Your source for The Elder Scrolls since 1995
This page is currently being redesigned for the Lore Places Project (LPP).
The page may need work to meet the standards outlined on the project page.
This page or parts of this page were previously transcluded to other pages per this discussion.
This page should be checked for potential unrelated lore and other information. Please remove this banner when the page has been cleaned up.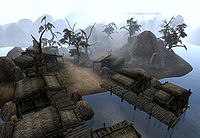 Khuul was a small fishing village in the West Gash region of Vvardenfell, on the island's northern coast.[1] Aside from a single Redoran-style shell-house, which served as a Tradehouse, the buildings were all rustic huts made of logs, rough planks, and thatch. There was a boat to Solstheim in the village if one had any reason to go.[2]
The only other legitimate businesses near Khuul were two egg mines–the Panud Egg Mine, just outside town, and the Asha-Ahhe Egg Mine, far to the southwest. There was also a silt strider port just south of town, by the Panud Egg Mine.
The date of Khuul's founding is uncertain. While an area known as Khuul was a stop for Silt Strider caravaneers around 2E 582,[3] there was no settlement there besides the nearby Urshilaku Camp.[4] Khuul had always been rumored to be a smuggling town, but the residents never confirmed nor denied this. They were suspicious of strangers asking a lot of questions and didn't like people poking around.[2]
Gallery
[
edit
]
An Urshilaku Camp at the future site of Khuul circa 2E 582 (ESO)
See Also
[
edit
]
References
[
edit
]