Online:The Fate of the Frozen
The UESPWiki – Your source for The Elder Scrolls since 1995
This page is currently being rewritten as part of the Online Quest Project.
The page is being both written and checked. All users are welcome to make changes to the page. If you make a change that is relevant to the project, please update this template accordingly, and make sure you have observed the project guidelines.

| | | | | |
| --- | --- | --- | --- | --- |
| | | Help a defecting raider find her lost partner and lover. | | |
I found a wounded, former Frostbite Raider named Magreta who asked me to reunite her with her partner, Nelfthea, who is still with their raiding band on the Frozen Coast.
Quick Walkthrough
[
edit
]
Travel to the Frozen Coast.
Search for Nelfthea.
Gather proof of Nelfthea's death from her corpse.
Leave Frozen Coast and bring the proof to Magreta.
Detailed Walkthrough
[
edit
]
On the other side of the Coast
[
edit
]
On the frigid coasts of northern Western Skyrim, you come across a Nord raider, Magreta, cursing at unseen enemies. She tells you she escaped a "bunch of wretched bastards" known as the Frostbite Raiders, yet her partner, Nelfthea, failed to run away and might now be in trouble.
You agree to help find Nelthea and take the boat to the Frostbite's hideaway on the Frozen Coast.
Searching for Nelfthea
[
edit
]
You arrive to the hideaway to find it teeming with raiders along with their bear and wolf companions, as well as a handful of half-giants. As you advance north you find crumbled, burning buildings. It is now time to search for clues of Nelfthea's whereabouts.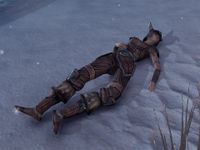 Among the evidence found is a note left by Nelfthea to Magreta explaining her intentions to stay with the Frostbite for one more raid before deserting, as they are starving and supplies are low. You will also find the corpse of Captain Hasgenr of the Raiders, alongside another note left by Nelfthea warning him that a ship is heading towards their hideout with intent of ambushing them, and she's gone to try and hold them off.
Our third clue is a wounded raider, Feluf, who is thankful you are not one of their half-giant assailants and warns you to run before you wind up like him. He also tells you that he is uncertain whether Nelfthea lives or not, and last he saw of her was when she was hit off the docks by a giant. Feluf says Nelfthea fell northeast, where the ambush landed, so that is where you go to next.
A cold tomb
[
edit
]
Nearby the imposing giant, Chief Gruthar, you will come across a snow mound. Digging through it you find a corpse which is apparently Nelfthea's, from which you pluck her necklace as proof of her valiant death.
Closure
[
edit
]
You return to Magreta by boat and show her the necklace, which she recognizes as Nelfthea's. She regrets her death in helping someone that didn't deserve her, and thanks you for letting her know by bringing her the necklace.
Quest Stages
[
edit
]
The Fate of the Frozen
Finishes Quest
Journal Entry
I should travel to the Frozen Coast to search for Nelfthea's whereabouts.

Objective: Travel to the Frozen Coast

I arrived at the Frozen Coast. I need to search for signs of Nelfthea's whereabouts.

Objective: Search for Nelfthea: 0 / 3

I found signs that Nelfthea went to defend against an attack on the Frostbite Raiders. One of them told me he saw her struck down by a Giant where they landed, to the northeast.

Objective: Find Where Nelfthea Fell

I found a body buried in the snow that is probably Nelfthea's. I should take something back for Magreta to identify.

Objective: Gather Proof of Nelfthea's Fate

I found a necklace that I believe belonged to Nelfthea. I should bring it back to Magreta to confirm if the dead woman I encountered was indeed her.

Objective: Leave the Frozen Coast

I found a necklace that I believe belonged to Nelfthea. I should bring it back to Magreta to confirm if the dead woman I encountered was indeed her.

Objective: Talk to Magreta