Lore:Niben Bay
The UESPWiki – Your source for The Elder Scrolls since 1995
This page is currently being redesigned for the Lore Places Project (LPP).
The page may need work to meet the standards outlined on the project page.
This page or parts of this page were previously transcluded to other pages per this discussion.
This page should be checked for potential unrelated lore and other information. Please remove this banner when the page has been cleaned up.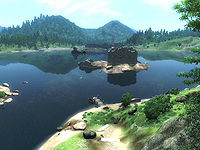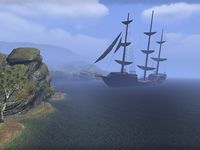 Niben Bay is a large body of water lying in the Nibenay Basin, largely east of the city of Bravil.[1]
It lies across the Niben River, splitting it into two parts, upper and lower, and so is technically a lake rather than a bay, which means that the Khajiit name for the bay, Lake Makapi, is more accurate.[2] In addition, the Larsius River, the Corbolo River, the Silverfish River, and the Panther River all empty into Niben Bay.[1]
In 3E 433 a floating island appeared in the bay, on which a door to the Shivering Isles was opened by Sheogorath in his search for a champion.[3]
See Also
[
edit
]
References
[
edit
]
^ Ahzirr Traajijazeri — Anonymous
^ Events during the Shivering Isles main quest