Lore:Bjoulsae River
The UESPWiki – Your source for The Elder Scrolls since 1995
This page is currently being redesigned for the Lore Places Project (LPP).
The page may need work to meet the standards outlined on the project page.
This page or parts of this page were previously transcluded to other pages per this discussion.
This page should be checked for potential unrelated lore and other information. Please remove this banner when the page has been cleaned up.
Bjoulsae River
Type
Body of Water
Continent
Tamriel
Appears in
Daggerfall, ESO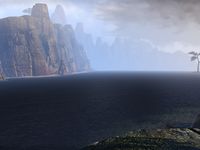 The Bjoulsae River is a major river that forms most of the border between Hammerfell and High Rock. It is the home of the River Horse Bretons, the nomadic tribes of Bretons.[1]
Its source lies roughly south of the High Rock city of Raven Spring and northwest of Hammerfell's Heldorn Mount—about two thirds of the way along the border between the two provinces. The Viridian Lake of Bangkorai and Jugular River of Wrothgar feed into it from the south and north respectively. It flows through the Halcyon Lake and passes the city of Evermore. It finally enters the sea at the eastern end of the Iliac Bay, near Wayrest.[2][3] At its mouth, periodic flood plains provide rich soil for agriculture.[4]
Racing rowboats up and down the Bjoulsae River is a popular pastime activity.[5]
History
In 2E 541, a horde of Reachmen, led by Durcorach the Black Drake, crossed the Bjoulsae and began the Siege of Wayrest.[6]
The Yrinthi River empties into the Bjoulsae, providing a navigable route from the interior of Tamriel to the Abecean Sea via the Iliac Bay. This was the route taken by an agent of the Blades in 3E 405, sent by Emperor Uriel Septim VII on a mission which culminated in the Warp in the West.[7]
Gallery
[
edit
]
References
[
edit
]
^ Bjoulsae Racing Oar description in ESO
^ Travails and Triumphs of a Monarch — His Majesty King Emeric
^ Daggerfall User's Guide (page 5)