Online:Dark Moon Grotto
The UESPWiki – Your source for The Elder Scrolls since 1995
Region:
Dark Moon Grotto


Skyshards
1
Occupants
Afflicted Werewolf, Afflicted Werewolf Howler, Durzog, Durzog Whelp, Nereid, Troll, Troll Rockthrower, Vale Deer Buck, Vale Deer Doe
Blackreach Thrall, Chaurus, Chaurus Egg, Chaurus Hatchling, Falmer Duskslicer, Falmer Twilightwarrior, Falmer Nightprowler
Death Hound, Vampire Bloodarrow, Vampiric Bear
Zone
Blackreach: Greymoor Caverns
Location
Western Blackreach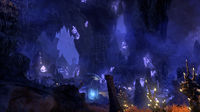 Dark Moon Grotto is the western cavern of the Blackreach: Greymoor Caverns cave system. The cavern is filled with gigantic purple geodes and coral-like fungi.
Related Quests
[
edit
]
Dark Moon Grotto Objective: Investigate the sickness spreading through Dark Moon Grotto.

Hounds of Hircine: Help cure a devastating disease afflicting the werewolves of Dark Moon Grotto.

Inguya's Mining Samples: Bring a dead miner's samples back to Dusktown.
Dungeons
[
edit
]
World Events
[
edit
]
Points of Interest
[
edit
]
Wayshrines
[
edit
]
Unmarked Locations
[
edit
]