Online:Bal Foyen
The UESPWiki – Your source for The Elder Scrolls since 1995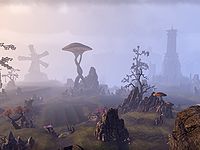 Bal Foyen is a small coastal zone neighboring Stonefalls in mainland Morrowind. It has little significance beyond Fort Zeren and its Dockyards. A large number of freed Argonian slaves have settled in the region, largely due to its swampy terrain, where they grow saltrice and herd guar and netches out of the village of Dhalmora.
Following the evacuation of Bleakrock, Captain Rana will task you with warning the neighboring region of Stonefalls of the impending attack by the Daggerfall Covenant, while at the same time dealing with the invaders who have made landfall in Bal Foyen.
Points of Interest
[
edit
]
Striking Locales
[
edit
]
Player Houses
[
edit
]
Wayshrines
[
edit
]
Unmarked Locations
[
edit
]
Quest Map
[
edit
]
Paths always enter a quest from the top or left, and leave a quest from the bottom or right.
Denotes a requisite path or quest. You must complete this before starting the subsequent quest.
Denotes an optional path or quest. The subsequent story quest can be started without this being completed.
Denotes an exclusive path or quest. Only one of the connected quests is required, and only one can be completed.
Denotes a quest which is part of the main story chain.
Denotes a story quest which is required for Cadwell's Almanac.
Denotes a missable pointer quest which is part of the main chain.
Denotes a missable pointer quest which is on an alternate path.
Ebonheart Pact Quests
[
edit
]
Side Quests
[
edit
]
Skyshards
[
edit
]
Clue
Location
Notes
Hidden near the highest hut.
At the western edge of Dhalmora. Northwest of Fit-For-Kings.
(map)
In the fort, just around the way.
Inside Fort Zeren, behind the wayshrine. Behind Fort Zeren Keep.
(map)
This one is visible from
the Fort's wayshrine
About to set sail.
On the ship in Foyen Harbor.
(map)
Each image is relevant to its location, and each number corresponds to the key on the right.
Gallery
[
edit
]