Online:Stony Basin
The UESPWiki – Your source for The Elder Scrolls since 1995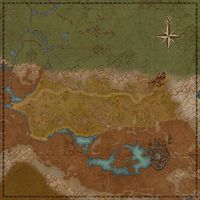 The Stony Basin is the northeastern region of The Rift. The only major settlement is the mining town of Shor's Stone in the northeast, near the pass to Eastmarch in the north. There are also a number of forts here, including Fallowstone Hall, Boulderfall Pass and Fort Greenwall. To the west are the Vernim Woods and Treva's Farm. The Stony Basin Dolmen lies to the southeast of Shor's Stone in the east. The Smokefrost Peaks lie to the south, while the Ragged Hills border on the west.
Settlements
[
edit
]
Farms and Plantations
[
edit
]
Groves and Marshes
[
edit
]
Caves, Ruins and Mines
[
edit
]
Dungeons
[
edit
]
Group Bosses
[
edit
]
Dolmens
[
edit
]
Mundus Stones
[
edit
]
Points of Interest
[
edit
]
Wayshrines
[
edit
]
Unmarked Locations
[
edit
]
Adventurer Quests
[
edit
]
These side quests count towards the Rift Adventurer achievement. For Pact storyline quests which also contribute to this achievement, please see The Rift Quests.
Achievements
[
edit
]
There is one Achievement associated with this region: