Online:Shor's Stone
The UESPWiki – Your source for The Elder Scrolls since 1995
Sometimes called Redbelly Mine for reasons that can't be repeated in mixed company, the ebony mine at Shor's Stone is the foundation of the local economy, and generations of villagers have sent their young men and women down into the works, despite the dangers.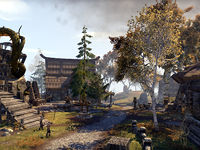 Shor's Stone is a mining town in the eastern Rift, just southwest of Eastmarch. Fallowstone Hall rests on the cliffs above the town, accessible by heading west out of the village then moving north. The town is home to its eponymous mine, which is known to the locals as Redbelly Mine. Recently, Reachmen from the Boneshaper Clan have surrounded the town and invaded the mine, sealing it. The locals are aware of a tomb connected to the mine's tunnels, where members of the ancient Companions are buried.
An Angry Love Letter and a copy of Clans of the Reach: A Guide sit in the open-air shelter; the letter is on a nightstand downstairs, and the lorebook is on a bed upstairs. Another copy of Clans of the Reach sits in the barn near Aymar Nilem. An Argonian Refugee can be found in a barn south of Shor's Stone.
Related Quests
[
edit
]
Shops and Services
[
edit
]
Other Places
[
edit
]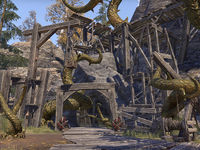 Gallery
[
edit
]