Online:Voddreid
The UESPWiki – Your source for The Elder Scrolls since 1995
Voddreid
Home Settlement
Shor's Stone
Race
Nord
Gender
Female
Health
39959
Reaction
Justice Neutral
Pickpocket
Medium
Profession
Commoner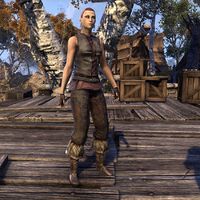 Voddreid is a Nord commoner who can be found in Shor's Stone. You'll find her wandering around the area near Rami and Arela's stall.
Occasionally she'll talk with Addold or Anrunn (she has the same conversation with both). If you've completed Unearthed, she'll say:
Voddreid : "Did you hear about Fallowstone Hall? Vigrod and someone from the Pact took it back!
Addold/Anrunn : "That's a relief. Don't know why Vigrod left the Hall in the first place.
Voddreid : "He's always looked after Shor's. Knowing Vigrod, he's taking the losses at the Hall pretty hard."