Online:Iluvamir
The UESPWiki – Your source for The Elder Scrolls since 1995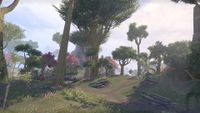 Iluvamir (or Lluvamir; see notes) is the southern region of Auridon. It extends from the port city of Vulkhel Guard up to just past Phaer and Glister Vale in the north. The Iluvamir Dolmen sits in the southwestern area, northwest of Vulkhel Guard. The region of Calambar is to the north.
Settlements
[
edit
]
Caves, Ruins and Mines
[
edit
]
Dungeons
[
edit
]
Group Bosses
[
edit
]
Dolmens
[
edit
]
Mundus Stones
[
edit
]
Points of Interest
[
edit
]
Player Houses
[
edit
]
Wayshrines
[
edit
]
Unmarked Locations
[
edit
]
Adventurer Quests
[
edit
]
These side quests count towards the Auridon Adventurer achievement. For Dominion storyline quests which also contribute to this achievement, please see Auridon Quests.
Disabled Quests
[
edit
]
Related Quests
[
edit
]
Achievements
[
edit
]
There is one Achievement associated with this region: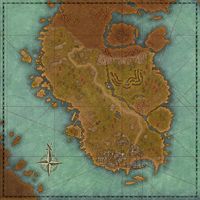 Before the One Tamriel update, this region functioned as a subzone in terms of gameplay, with its content specifically designed for players of Level 5–7. Before Update 9, it also had its own entry in the "World" section of the Group Finder, which was removed in the Group Finder overhaul.
Prior to Update 9, this region and its associated dolmen were named Lluvamir. The subzone ostensibly kept this name until the subzone definitions were removed in Update 12, but these were not visible in-game after Update 9.