Online:Stros M'Kai
The UESPWiki – Your source for The Elder Scrolls since 1995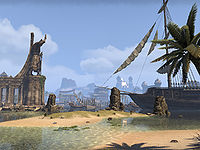 Stros M'Kai is a desert island off the coast of Hammerfell. The island was one of the first landfalls settled by the Redguards when they sailed east from their lost homeland of Yokuda. Stros M'Kai is a haven for piracy, and many of the Pirates of the Abecean Sea consider it their home port. The island is run by Headman Bhosek from his palace in Port Hunding. Small whale-bone whistles, carved to resemble reclining mermaids, are a popular item between the sailors and pirates of the island, especially to those of Saintsport.
The island is where Daggerfall Covenant players begin their journey after escaping Coldharbour. Over the course of the Covenant questline, Captain Kaleen will hire you to gather a crew to raid Bhosek's palace and find proof that he has violated the law of the Redguard king Fahara'jad calling for an end to the raiding of Breton shipping.
Points of Interest
[
edit
]
Striking Locales
[
edit
]
Player Houses
[
edit
]
Wayshrines
[
edit
]
Unmarked Locations
[
edit
]
Quest Map
[
edit
]
Paths always enter a quest from the top or left, and leave a quest from the bottom or right.
Denotes a requisite path or quest. You must complete this before starting the subsequent quest.
Denotes an optional path or quest. The subsequent story quest can be started without this being completed.
Denotes an exclusive path or quest. Only one of the connected quests is required, and only one can be completed.
Denotes a quest which is part of the main story chain.
Denotes a story quest which is required for Cadwell's Almanac.
Denotes a missable pointer quest which is part of the main chain.
Denotes a missable pointer quest which is on an alternate path.
Daggerfall Covenant Quests
[
edit
]
Side Quests
[
edit
]
Skyshards
[
edit
]
Clue
Location
Notes
Across the water from the western wall.
SSW of Port Hunding's Wayshrine, on rocks beside water.
(map)
The mouth of The Grave stands open.
Just outside of The Grave
(map)
Crashed through a Saintsport roof.
In a ruined building in Saintsport
(map)
Each image is relevant to its location, and each number corresponds to the key on the right.
Gallery
[
edit
]