Online:Headman Bhosek
The UESPWiki – Your source for The Elder Scrolls since 1995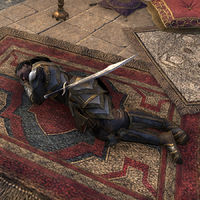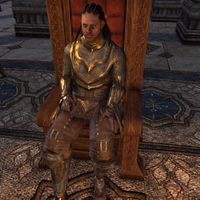 Headman Bhosek, a Redguard, is the universally-disliked ruler of Port Hunding and the rest of Stros M'Kai. In addition to treating his own people poorly, he insists on continuing to raid Breton ships, even though they are part of the same alliance now. His thugs, the Bloody Fists, serve as guards on the island.
Related Quests
[
edit
]
Quest-Related Events
[
edit
]
If you turned down Jakarn's help, you can instead drug Bhosek's drink. Go out to the patio where Bhosek will be entertaining some young ladies. He'll quickly snap at you:
Headman Bhosek: "'Bout time, you lazy rat. I'm near empty. Fill me up before I have you whipped!"
Headman Bhosek: "Ladies, entertain yourselves. I'll be right back."
<Headman Bhosek takes a swig>
Headman Bhosek: "That's some strong stuff."
Headman Bhosek: "Whoa. Need to sit down."
Headman Bhosek: "Ev'thing … looks … funny."
<Headman Bhosek passes out and falls to the ground>
Agrash: "He's asleep? Already?"
Firneril: "They don't usually nod off 'til after."
You can now safely take Bhosek's key:
Firneril: "Did they just pick Bhosek's pockets?"
Agrash: "I won't tell if you won't."
Dialogue
[
edit
]
After the quest, he'll be sitting on his throne. If you speak to him, he says:
"Step back and wait your turn!"