Online:Blackreach: Arkthzand Cavern
The UESPWiki – Your source for The Elder Scrolls since 1995
Story DLC
Wayshrines
2
Points of Interest
6
Striking Locales
2
Set Stations
1
World Bosses
1
Skyshards
2
Occupants
Blackreach Jelly, Centipede, Cockroach, Mudcrab, Torchbug, Vale Deer Buck, Vale Deer Doe, Winter Moth
Chaurus Egg, Falmer Nightprowler, Gloomspore Bear, Gloomspore Senche, Gloomspore Wolf
Dwarven Centurion
Location
Underneath the Reach
Loading Screen

The superstitious Reachfolk rarely speak of the dark caverns that lie beneath the surface of their sacred land. This willful ignorance, born from the wise belief that no good can come from unearthing what's best left forgotten, has served them well since they first settled along the Karth River.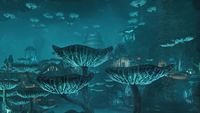 Blackreach: Arkthzand Cavern is the southwestern cavern of the Blackreach cave system, located beneath the Reach. Within the cavern, there are several poisonous mushrooms which release a cloud of spores that deals low poison damage over time. Gloomspore creatures roam the fungal forests to the east. Falmer prowl the northern tunnels.
Related Quests
[
edit
]
Points of Interest
[
edit
]
Striking Locales
[
edit
]
Set Stations
[
edit
]
World Bosses
[
edit
]
Wayshrines
[
edit
]
Connected Realms
[
edit
]
Grayhaven — A lost realm of Oblivion located deep in the Void.
The two skyshards in this zone require the use of Void Portals to reach. This is a simple matter of looking at the portal from a distance and activating it, similar to using a grappling bow. You are not required to have first obtained the Void Shard from the quest The Study of Souls to do this.
Each image is relevant to its location, and each number corresponds to the key on the right.
Gallery
[
edit
]