Online:Greenshade
The UESPWiki – Your source for The Elder Scrolls since 1995
Greenshade, a land of flowing rivers and fertile plains, occupies the southwest portion of Valenwood. The port city of Woodhearth sits upon the western shore, while other towns include Marbruk and Greenheart.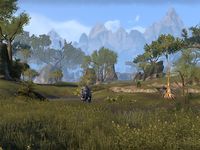 Greenshade is a large region of western Valenwood, lush with life under its canopy with rivers coursing through the land. It contains the towns of Marbruk and Woodhearth. The Thalmor of the Aldmeri Dominion have worked towards "civilizing" the region, but have met resistance in eradicating widespread practices, such as Daedra worship.
Settlements
[
edit
]
Groves and Marshes
[
edit
]
Caves, Ruins and Mines
[
edit
]
Dungeons
[
edit
]
Group Bosses
[
edit
]
Dolmens
[
edit
]
Mundus Stones
[
edit
]
Points of Interest
[
edit
]
Player Houses
[
edit
]
Wayshrines
[
edit
]
Unmarked Locations
[
edit
]
Connected Realms
[
edit
]
Quest Map
[
edit
]
Paths always enter a quest from the top or left, and leave a quest from the bottom or right.
Denotes a requisite path or quest. You must complete this before starting the subsequent quest.
Denotes an optional path or quest. The subsequent story quest can be started without this being completed.
Denotes an exclusive path or quest. Only one of the connected quests is required, and only one can be completed.
Denotes a quest which is part of the main story chain.
Denotes a story quest which is required for Cadwell's Almanac.
Denotes a missable pointer quest which is part of the main chain.
Denotes a missable pointer quest which is on an alternate path.
Denotes a side quest which is required for Cadwell's Almanac.
Denotes a quest which rewards a Skill Point.
Alternate Story Pointers
Dungeon Quests
[
edit
]
Skyshards
[
edit
]
Clue
Location
Notes
Flee the labyrinth of words and stone.
East of the Labyrinth, just west of the crossroads southeast of Spinner's Cottage.
(map)
In crumbled keep where shadow creeps.
Northwest of the entrance to Shadows Crawl, next to the outer wall.
(map)
Breath of fresh air for Marbruk's mages.
On the northern balcony of the Marbruk Mages Guild.
(map)
Find an eclectic outskirt by the sea.
West of the Wayshrine behind a wall in Woodhearth
(map)
Where moor becomes moat.
Beside bridge in the Shademist Moors
(map)
Stay dry where the Wooded Eye wards.
Between rocky outcrops in Rootwater Grove, due south of Serpent's Grotto.
(map)
No longer entrenched.
At the bottom of the cliff just east of Barrow Trench.
(map)
Unheeded by Wood Orc lookouts.
Atop the easternmost tower at the Falinesti Spring Site Orc camp.
(map)
Down in the gorge of rope bridges.
On the lakeshore northeast of and below the Falinesti Wayshrine.
(map)
In Gurzag's supplies.
Gurzag's Mine, up planks in the left wall main room
(map)
Halls ruined further by blue-skin brutes.
Carac Dena, main chamber at the bottom
(map)
A pretender in Naril Nagaia.
Small room, bottom left, with two guards, in a niche
(map)
Under root, but hidden high.
In The Underroot, down the wall on a mushroom top of big room with Stranglers & Lamias
(map)
Batted around in the purring lair.
In Harridan's Lair, in the bottom room
(map)
Guarded by senche tigers
Mined up in a barrow.
Barrow Trench at the exit door tunnel in a wagon
(map)
Outside the Harbinger's chamber.
In Rulanyil's Fall, in the large room in the eastern, with lots of water
(map)
City of Ash
[
edit
]
March of Sacrifices
[
edit
]
Set Name
Traits Needed
Bonuses
Crafting Sites
Hist Bark
4

2 items: Adds 34-1487 Armor
3 items: Adds 25-1096 Maximum Stamina
4 items: Adds 28-1206 Maximum Health
5 items: While you are blocking you gain Major Evasion, reducing damage from area attacks by 20%.

Rootwatch Tower in Greenshade
Trader's Rest in Rivenspire
Hatchling's Crown in Shadowfen

Magnus' Gift
4

2 items: Adds 25-1096 Maximum Magicka
3 items: Adds 3-129 Magicka Recovery
4 items: Adds 3-129 Spell Damage
5 items: When you cast a Magicka ability, you have an 15% chance to negate that ability's cost.

Arananga in Greenshade
Veawend Ede in Rivenspire
Xal Haj-Ei Shrine in Shadowfen

Whitestrake's Retribution
4

2 items: Adds 28-1206 Maximum Health
3 items: Adds 34-1487 Armor
4 items: Adds 3-129 Health Recovery
5 items: When you take damage while you are under 30% Health, you gain a damage shield that absorbs 303-13035 damage for 6 seconds. This effect can occur once every 15 seconds.

Lanalda Pond in Greenshade
Westwind Lighthouse in Rivenspire
Weeping Wamasu Falls in Shadowfen
Each image is relevant to its location, and each number corresponds to the key on the right.
Gallery
[
edit
]
Statue of the Daedric prince Hircine