Online:Erinel
The UESPWiki – Your source for The Elder Scrolls since 1995
Erinel
Home City
Marbruk
Race
Bosmer
Gender
Female
Reaction
Friendly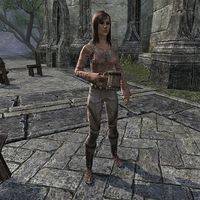 Erinel is a Bosmer found in the city of Marbruk. She wanders a wide area near the Mages Guild hall.
Occasionallay she'll say (to no one in particular):
Erinel : "A house of stone? But how did they get the stone to move?"
Erinel : "I wonder if I could climb it."
Erinel : "You're no fun!"
It's possible Erinel was meant for her dialogue to be part of conversation with another character that is not present in the game either due to a bug or oversight.