Lore:Greenshade
The UESPWiki – Your source for The Elder Scrolls since 1995
This page is currently being redesigned for the Lore Places Project (LPP).
The page may need work to meet the standards outlined on the project page.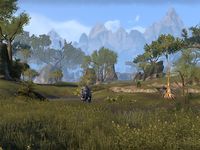 Greenshade is a large region which forms southwestern Valenwood. The southwest area is known as the Drowned Coast, which lies west of Wilderking Court. Northern Greenshade is known as Green's Marrow. Many rivers course through the land, and life abounds under its canopy. The towns Marbruk, Greenheart, and the capital Woodhearth are located here, along with many smaller settlements. The walking city Falinesti has been known to spend the spring around the center of the region. Several Ayleid ruins can still be found in Greenshade. Many Bosmer of Greenshade venerate the Wilderking.[1]
Greenshade is home to many tribal Bosmer, or Green Pact Bosmer, who are known for being unfriendly to outsiders and for practicing the "Rite of Theft".[2][3] Many merchants travel well-armed and stick close to major cities as a result. Old "Merchant Tunnels", which were dug so that legitimate businessmen could transport goods in relative safety, are now generally used instead for black-market smuggling and trading.[2]
In the Second Era, the Thalmor of the Aldmeri Dominion sought to "civilize" the region, but met resistance in eradicating widespread practices, such as Daedra worship.[1] Their construction of the town of Marbruk proved controversial due to the damage it caused to the Green of Valenwood.[4]
"Jugged Venison" is a popular delicacy in the region.[5]
See Also
[
edit
]
References
[
edit
]