Online:Bleakrock Isle
The UESPWiki – Your source for The Elder Scrolls since 1995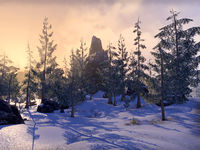 Bleakrock Isle is a small, barren island in the sea northwest of Morrowind, just to the south of Solstheim. Sparsely populated and far off any major trade routes, it is garrisoned by only a small Ebonheart Pact force to watch for enemy ships. Since the beginning of the Three Banners War, bandits began appearing in Bleakrock, and many citizens begun to carry around alabaster whistles to sound when they require aid.
The island is where Ebonheart Pact players begin their journey after escaping Coldharbour. Over the course of the Pact questline, you will assist Captain Rana in locating Bleakrock's missing villagers, and subsequently evacuating them in the wake of an attack by the Daggerfall Covenant.
Points of Interest
[
edit
]
Striking Locales
[
edit
]
Wayshrines
[
edit
]
Unmarked Locations
[
edit
]
Quest Map
[
edit
]
Paths always enter a quest from the top or left, and leave a quest from the bottom or right.
Denotes a requisite path or quest. You must complete this before starting the subsequent quest.
Denotes an optional path or quest. The subsequent story quest can be started without this being completed.
Denotes an exclusive path or quest. Only one of the connected quests is required, and only one can be completed.
Denotes a quest which is part of the main story chain.
Denotes a story quest which is required for Cadwell's Almanac.
Denotes a missable pointer quest which is part of the main chain.
Denotes a missable pointer quest which is on an alternate path.
Ebonheart Pact Quests
[
edit
]
Side Quests
[
edit
]
Skyshards
[
edit
]
Each image is relevant to its location, and each number corresponds to the key on the right.
Gallery
[
edit
]