Online:Reaper's March
The UESPWiki – Your source for The Elder Scrolls since 1995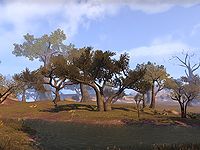 Reaper's March, at one time known simply as Northern Valenwood, is a region connecting the jungles of Valenwood and the rolling plains of Elsweyr. Home to the cities of Arenthia and Dune as well as some Ayleid ruins, it is a unique mixture of Bosmer and Khajiiti culture. The senche-tiger native to the area is known to the locals to have mystical, almost magical alchemical properties.
Points of Interest
[
edit
]
Striking Locales
[
edit
]
Set Stations
[
edit
]
Mundus Stones
[
edit
]
Public Dungeons
[
edit
]
Group Dungeons
[
edit
]
World Bosses
[
edit
]
World Events
[
edit
]
Player Houses
[
edit
]
Wayshrines
[
edit
]
Unmarked Locations
[
edit
]
Connected Realms
[
edit
]
Quest Map
[
edit
]
Paths always enter a quest from the top or left, and leave a quest from the bottom or right.
Denotes a requisite path or quest. You must complete this before starting the subsequent quest.
Denotes an optional path or quest. The subsequent story quest can be started without this being completed.
Denotes an exclusive path or quest. Only one of the connected quests is required, and only one can be completed.
Denotes a quest which is part of the main story chain.
Denotes a story quest which is required for Cadwell's Almanac.
Denotes a missable pointer quest which is part of the main chain.
Denotes a missable pointer quest which is on an alternate path.
Denotes a side quest which is required for Cadwell's Almanac.
Denotes a quest which rewards a Skill Point.
Alternate Story Pointers
Dungeon Quests
[
edit
]
Skyshards
[
edit
]
Clue
Location
Notes
East from the solemn eye's shrine.
East of Fort Grimwatch Wayshrine, north of the Researcher's Camp
(map)
Where temple became tree-house.
Greenhill, behind the temple on the cliffs
(map)
In a smoldering shell.
South of Old Town Cavern, in a burnt out Bosmeri house
(map)
Surrounded by skeevers
Overlooking the site of the fall.
In the rocks south of Falinesti Autumn Site, due west of Rawl'kha
(map)
Camped on the way to Claw's Strike.
Under bridge west of Crescent River Camp
(map)
Hidden by a less subtle blade.
Thormar ruins, on top of the rocks
(map)
Dune's arcane beacon.
Dune, top of the rocks next to the Mages Guild
(map)
Surrounded by clannfear & trolls. This one used to be on the Guildhall's balcony, and could only be accessed during or after The Fires of Dune quest.
Mara's devout frets in view.
Fort Sphinxmoth, behind broken wall
(map)
Within earshot of the cheering crowd.
Thizzrini Arena, from doors turn left on the rocks above Feluni's office
(map)
Growling, beastly gladiators prowl.
Kuna's Delve, in a barrel upper side, big room top right
(map)
Treasure of the bard's tomb.
Thibaut's Cairn catacombs, middle room
(map)
Surrounded by skeletons
Awash in tears underground.
Weeping Wind Cave bottom room
(map)
Outlaws strike skooma deals here.
Claw's Strike, room to the right
(map)
Surrounded by lions
The folly is in passing through quickly.
Fardir's Folly, across walkway in a small room
(map)
Moon's light reveals its secret.
Jode's Light, room to the left of the entrance
(map)
Surrounded by giant bats
Far beneath a foul manor.
In the Vile Manse, in the cavern as you drop down to the second floor.
(map)
This one is usually guarded by a boss Daedroth named Xevat-Golok.
Selene's Web
[
edit
]
Moon Hunter Keep
[
edit
]
Set Name
Bonuses
Location(s)
Set Type
Moondancer

2 items: Adds 25-1096 Maximum Magicka
3 items: Gain Minor Slayer at all times, increasing your damage done to Dungeon, Trial, and Arena Monsters by 5%.
4 items: Adds 3-129 Weapon and Spell Damage
5 items: When you activate a synergy while in combat, you gain a shadow blessing that increases your Weapon and Spell Damage by 11-474 or a lunar blessing that increases your Magicka Recovery by 11-474 for 20 seconds. You can only have one blessing active at a time.

Maw of Lorkhaj
Light Armor
Twilight Remedy

2 items: Adds 3-129 Magicka Recovery
3 items: Gain Minor Aegis at all times, reducing your damage taken from Dungeon, Trial, and Arena Monsters by 5%.
4 items: Adds 3-129 Weapon and Spell Damage
5 items: When an ally activates your synergy, they heal themselves for 7704 Health over 15 seconds and gain Minor Force for the duration, increasing their Critical Damage by 10%. This effect scales off the higher of the synergy activator's Max Magicka or Stamina.

Maw of Lorkhaj
Light Armor
Roar of Alkosh

2 items: Adds 15-657 Critical Chance
3 items: Gain Minor Slayer at all times, increasing your damage done to Dungeon, Trial, and Arena Monsters by 5%.
4 items: Adds 3-129 Weapon and Spell Damage
5 items: When you activate a synergy, you send a shockwave from your position that deals 318 Physical Damage and an additional 1590 Physical Damage over 10 seconds. Reduces the Physical and Spell Resistance of any enemy hit by the amount of your Weapon Damage for the duration, up to a maximum of 6000. The damage scales off the higher of your Weapon or Spell Damage.

Maw of Lorkhaj
Medium Armor
Lunar Bastion

2 items: Adds 4% Healing Taken
3 items: Gain Minor Aegis at all times, reducing your damage taken from Dungeon, Trial, and Arena Monsters by 5%.
4 items: Adds 28-1206 Maximum Health
5 items: When you activate a synergy, you create a lunar blessing underneath you for 8 seconds. The blessing grants a stacking damage shield every 2 seconds that absorbs 63-2737 damage per stack for you and your group members within 8 meters. The damage shield lasts for 4 seconds and refreshes every tick. This effect can occur once every 20 seconds, and stacks up to 6 times.

Maw of Lorkhaj
Heavy Armor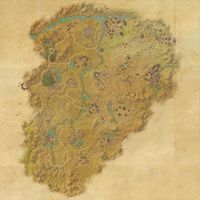 Gallery
[
edit
]